5 input and 8 output (5X8) multiswitch. EMP-Centauri MS5/8PIU
5 input and 12 output (5X12) multiswitch. EMP-Centauri MS5/12PIU
5 input and 16 output (5X16) multiswitch. EMP-Centauri MS5/16PIU
5 input and 20 output (5X20) multiswitch. EMP-Centauri MS5/20PIU
5 input and 28 output (5X28) multiswitch. EMP-Centauri MS5/28PIU
DELTA 5 in 48 out Multiswitch. Delta MSE5048N
Advice
QUESTION -
I want to have multiple satellite points around
the house and multiple receivers. I also want to
distrubute the TV from one receiver to all TVs how
can this be done.
ANSWER -
There are several parts to this question.
There are several parts to this question.
Input
To provide many satellite dish points, (e.g. Sky or freesat) around the house you either need a quatro LNB on your
dish or a quatro LNB dish kit. see
dishes with quatro LNBs
and a 5 input multiswitch
(multiswitches are usually situated in a loft or cupboard or central area.) See
multiswitches
.
(Please note our latest EMP multiswitches also work with quad LNBs or 4 outputs from an octo LNB.
Most other makes only work with quatro LNBs) The quatro or quad LNB (with 4 outputs) feeds the multiswitch
using 4 LNB cable - see
4 LNB cable
Best to put two outlets in each room as it may be that twin tuner receivers
(record one channel and watch another) may be needed. (These are called twin tuner PVRs) If so use
the twin wall plates see
outlet plates
then scroll down to the twin units. Use twin cable to each room. see
Twin cable
For (e.g.) 6 rooms a 12 output multiswitch would be used. Twin cable to each room. An aerial can be fed
into the 5th input of the multiswitch if required. Using a wall plate which has a diplexer built in, two
satellite points and an aerial point is available. The UHF aerial signal is added to the satellite signal
by the multiswitch and goes down the same wire as the satellite signal. If two or three aerials are required
e.g. TV, FM and DAB radio, a 3 way combiner can be fitted on the roof and the one cable from that unit goes
into the 5th input of the multiswitch. Again the appropriate wall plate is needed to separate them all out
again. See
multiswitch combiner
Standard Sky, Sky+ Sky HD freesat and freesat HDR and other receivers can then be connected
to the F connector wall plate. Everything you may need is on the
Multiswitches Menu Page
.
Sky Q update October 2016.
Sky Q multiswitches are now available but it is now also possible to combine
Sky Q multiswitches
with standard
multiswitches. There are three options. Use only a Sky Q multiswitch, or use a Sky Q multiswitch with a standard
multiswitch, or use a Sky Q interface with a
standard multiswitch
. A Sky Q multiswitch (e.g. 5 in and 4 out) is
cascade-able. That means it has LNB loop-through. So it is really 5 in, 4 Sky Q outputs and 4 quatro LNB outputs
(the 5th output is terrestrial) which can link to a standard multiswitch. That means it can be introduced in
front of a standard multiswitch (between LNB and standard multiswitch.) Sky multiswitches will only work with
quatro LNBs and not with the quad LNBs which are on Sky mini dishes. The other option is the
Sky Q interface
.
This is connected to the output of a standard multiswitch. 4 short cables (the interface would sit beside the
multiswitch) coming from 4 of the outputs from a standard multiswitch connect to 4 inputs in the Sky Q interface.
The interface converts these 4 inputs into the 2 Sky Q outputs. The disadvantage is that 4 outputs turn into two
outputs but if there are plenty of spare outputs, this is not a problem. Two rooms can then be supplied with a
Sky Q feed (remember Sky Q only needs one cable not two). The rest of the rooms would be fed with standard
outputs and so Sky HD, freesat and standard receivers can be used in those rooms.
Output.
Distribution round the house needs a 2, 4, 6 amp or (preferably) professional 8 way amp and cabling.
See
Professional 8 way amp
and
Offer 1
but read the whole page.
This is to distribute TV from one receiver to other TVs around the house (one channel)
This can be done by feeding a cable from the room containing the sat receiver to the multiswitch location and
into the 3 way combiner then into the multiswitch. However, the problem with this method is that the multiswitch
will not permit the 9 volts to go through and the TV Eye or omni link system to work for control. It is better
therefore to have a completely separate output system with separate cabling for the distribution system
This would mean 3 cables to each room, two for the satellite and one for the distribution. TV eyes for Sky receivers
Sky accessories
or omni link systems for freesat receivers or other receivers see the
omni link kit
(and a modulator is required - same page or use a
Triax Trilink)
This will allow full control of the Sky or freesat system from all of the rooms (but only in UHF analogue).
Latest information on HD 1080p output distribution.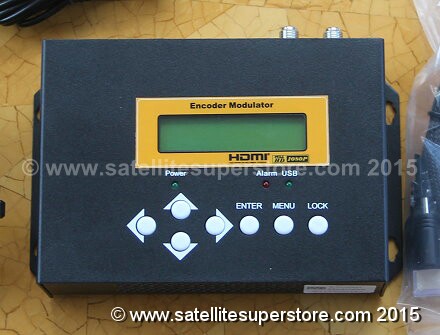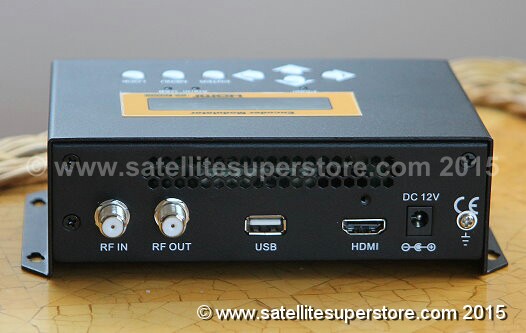 This
HD Modulator
, has an HDMI input and a coaxial cable output. Many houses already have a UHF distribution system.
A similar system in the past would take the coaxial output from the UHF (RF) connection of a receiver, maybe to an existing
distribution amplifier in the loft, then cables down to the rooms. This new HD modulator will work with your existing
distribution system. Satellite receivers now have an HDMI output. Connect the HDMI output from your satellite receiver
into the HD modulator. This uses the only HDMI output and so it is now not available to go to the TV next to it. There are
two solutions of sending the HD signal to both the TV and the modulator, 1. buy an
HDMI splitter
. This splitter converts
one HDMI output to two HDMI outputs. Then one HDMI cable can continue to go to the TV next to your satellite receiver and the
other to the HD modulator (optional splitter below). 2. Only connect the one HDMI lead to the modulator, the output then via
coax to the distribution amplifier. From there send the signal via coax to many TVs in many rooms and also back to the TV next
to the satellite receiver. With the second plan an HDMI splitter is not needed but a coax cable back from the distribution
amplifier is. To summarise, the coaxial output of the modulator can go direct to a second TV elsewhere in the house, or it
can go to a distribution amplifier (which may be in the loft) and then to many rooms. This coaxial cable then plugs into the
digital tuner input of your TV. All you then have to do is tune in the channels on your TV and one of the channels will be the
satellite receiver from the main room. This can be in full 1080p HD. Additional notes. The old UHF system in use for, probably
30+ years from an RF output was analogue and not very good quality. Usually there was an RF modulator built into the satellite
receiver and you had to tune in the analogue tuner of your TV set. Today many flat screen sets have both analogue and digital
tuners. Since there is no analogue TV any more the analogue tuner only tends to be used for tuning the old UHF, RF distribution
system but the new HD modulator works through the digital tuner of the TV in full HD. There have been some HD distribution
system which use CAT 5 cable but this system of HD over coax means that the old existing distribution system using coax can
be used and will it all work in full HD. There is an aerial loop through on the back of the modulator (just the same as the
old analogue loop through in the back of a satellite receiver with RF in and out) and so if the TV aerial can go into the
modulator, the aerial will then be carried with the satellite receiver signal to every TV through the distribution system in
the usual way. Please also note, for control you may also need an
Omni Link kit
. Then you can change channels etc.
from any room. Also remember out dedicated telephone support line just for our customers is there to help you
How to use mutiswitches and motorised in multiple rooms.
Using a
9 input Delta multiswitch,
two satellites can be made available in every room.
This multiswitch could be fed from (e.g.) a dish on 28E for sky or freesat. This dish would have a quad
(not quatro) LNB. These multiswitches are designed for quad or octo LNBs.
A good example of a dish for this purpose would be -
The Triax 60cm solid dish with quad option
see
Triax 60cm. (with quad LNB option)
The Triax heavy duty 60cm or 70cm dish with quad LNB option
see
Triax heavy duty 60cm or 70cm dishes (with quad LNB option)
The clear 60cm dish with quad LNB option.
see
Clear 60cm dish (with quad LNB option)
This dish would be fed into input 1 of the 9 input multiswitch (this is 4 inputs), 1-4, for the quad LNB.
Input 2 (i.e. from 5-8) would be fed by a motorised dish.
The motorised dish (e.g. 90cm Triax - see
Triax 90cm motorised dish (with octo LNB option)
)
would have an octo LNB option (8 outputs)
4 of the outputs would feed into input 2 of the multiswitch (5-8)
A 5th output would go direct to the motorised satellite receiver. (or outputs 5 and 6 to a twin tuner motorised receiver.)
This receiver would be placed in the house where it can easily be accessed as it will control which 2nd satellite
it being offered to the multiswitch.
Let us assume the 9 input multiswitch has 16 outputs. That is to say twin cable to 8 rooms so that every room has
the capability of using a twin tuner receiver.
The system would then work in the following way -
Using any receiver into a twin satellite point in a room, 28E (Sky and freesat) would be available even if the
receiver was a dedicated receiver (like a Sky receiver) and does not have Diseqc switching PROVIDING 28E goes
into input 1 of the multiswitch.
Input 1 is the "relaxed position" of the switches (Input 2 is the forced position) therefore the signal will go
through input 1 whether the receiver has Diseqc switching or not.
If the receiver DOES have diseqc switching, then the second satellite can be selected.
If the motorised dish is (e.g.) on Hotbird, the second satellite available in every room would be Hotbird at 13E
If the motorised dish is (e.g.) on Astra 1, the second satellite available in every room would be Astra 1 at 19E
this system insures that everyone in the house can easily select the main UK satellite (Astra 2 at 28E) but would
also be able to access a second satellite and that satellite would be determined by the position of the motorised dish.
This system eliminated a particular problem. Within the menu of a satellite receiver you can't select Diseqc
switching (Diseqc 1.0 or 1.1) AND motorised (Diseqc 1.2) AT THE SAME TIME. This is why an octo LNB must be
used with these special quad / octo multiswitches. This system keeps the diseqc 1.2 separate from the
multiswitches and so it all works. It would not work with quato LNBs as the motor would not work between the
LNB and the multiswitch. There has to be a 5th output
to separately route through the motor to a control receiver.
Twin wall plates are needed in every room. The motorised receiver needs it's own cables directly from it's own dish.
This system also works for a 36 volt motor, here a V Box is used in the cable from the 5th output of the octo LNB
to the main motorised control receiver otherwise everything else is the same.
Problems of using more than one diseqc switch
with multiple LNBs
One our web site you will find 2, 3 and 4 LNBs on one fixed dish
See
2, 3 or 4 satellites on 1 fixed dish
You will also find options for the fitting of a twin or quad LNB as a substitution
with ONE of the 3 or 4 LNBs so that a popular satellite can go to several receivers.
e.g. putting a twin or quad in the 28E position so that a Sky digibox or Sky + can
be connected as well as the CI receiver to that LNB That means the CI receiver and the
Sky box both are connected to 28E but the CI receiver is also connected to other
satellites through ONE diseqc switch.
You will not find on our site 2.3 or 4 satellite kits with twin or quad LNBs and
more than one diseqc switch to either two receivers or a twin tuner receiver.
REASON.
Whilst it should all work in theory, in practice
(depending on the combination of switch positions) you can get no signal on a
satellite when it should all work. This is because twin LNBs and Quad LNB should
be fully connected to work properly. It may be OK to connect to two outputs of a quad
but you have to experiment to find out which two. With a twin, one side has a good
connection to the internal power supply circuit and the other is almost like a passive
device and relies on power from the second receiver to work properly
If you connect two or more diseqc switches, they take power away from some of the
outputs of the twin or quad LNBs (depending on the switching at the time) and
things go wrong.
IS THERE A SOLUTION?
Yes there is - a new solution - but quite expensive. It will be on our site soon as
an option on all of the twin tuner receiver pages eventually but see it at
multiswitches
The 9 in and 6 out and the 17 in an 6 out ...etc. This is a product designed to
do the job. Quatro LNBs must be used but all the switching is done inside the unit
and there are no power issues
Update April 2010. The twin lnb options with Discqc switches
all designed to work together do work without problems if
part of the "
Inverto Multiconnect
" 3 and 4 sat systems.