Primesat 1.1m aluminium motorised dish.
Low cost, high quality, high gain.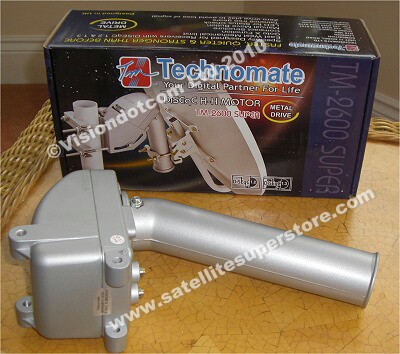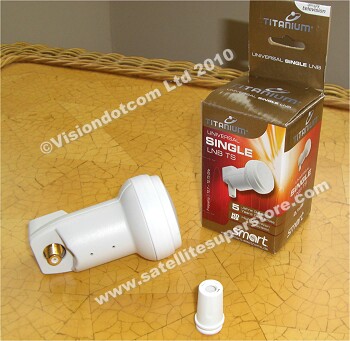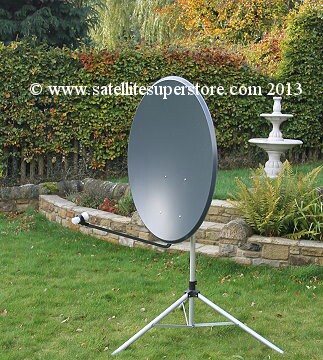 New product. High Quality. High Gain. Aluminium. Easy adjust.
0.1dB
Smart Titanium
LNB. Please note the dish is now light grey.
This
aluminium
dish has a total weight of only 7.5Kg. (A steel 1.1m weighs 11Kg.) The
gain is a massive 41.2dB
at
12.75GHhz and the coating is Polyester RAL7035
powder coating
. It is available in very dark grey (almost black).
The
easy adjust
AZEL mount on the back of the dish (where elevation is adjusted) is
galvanised
. It will clamp to poles
from 35mm to 60mm diameter.
Smart Titanium
LNB from "Smart Electronic GmbH" in Germany. Smart also make
professional meters
and
diseqc switches
. This is the new Titanium third edition LNB that is widely praised on many
web sites. It has the gold connections and is very low noise. An ultimate performance LNB. Ideal for situations where
the maximum dish size cannot be increased. This LNB has a high output and so it is also very good for long cable runs,
e.g. longer than 35m. In the comparative LNB test in April 08 What Satellite magazine, the second edition (0.2dB) LNB
performed best of all. This Titanium 0.1dB third edition LNB improves on the previous model. The Technomate 2600
motor with metal gears is a very reliable motor. This 1.1m dish is ideal for many satellites when used in the UK.
It is possible to upgrade the single LNB to a
twin
,
quad
,
octo
or
quatro
LNB
using the
LNB upgrade options
It is worthwhile checking out our
support page
page (especially
if you plan to do the fitting yourself) and the
wall mounts and ground stands
page. This motor will fit on a pole
of either 50mm or 76mm diameter. Also see the
special offer wall mount
for 1.1m dishes.
Shipping information.
Please note that due to the large size (volume) of the 1.1m dish there are extra (top up) delivery charges for "out of area UK postcodes".
Most UK postcodes have no extra charges
. Areas like the Scottish highlands are not covered. Therefore delivery
is included to
selected mainland UK postcodes
. There is a £15.00 delivery charge to offshore islands including Northern
Ireland to
selected postcodes
. If your postcode is not on the list, this may be because it is "outside of main city areas" and
so
click on the link here
to see if your post code is covered. If your postcode is on the list, delivery charges are in "included to
mainland destinations" (but remember to select the £15 option for offshore islands). Postcodes are provided by "Parcelforce".
If your postcode is not on the list, you will need a shipping quotation. If you place an order, the shipping quote will be emailed
to you. You can then either accept the quote and pay at the link provided, or decline the quote and your order will be refunded, or,
you may prefer to email us for a quote on the
contact page
. If your postcode is on the list please also note that next day
delivery is not available. This is a 48 hour "large item delivery service". Most UK postcodes are on the list.
Shipping options. Discounted shipping on all internet orders.
(
VAT info
.) (
Stock levels
.)
UK
-
mainland UK delivery (selected postcodes only) is included in the price,
so choose "
UK mainland delivery included
" - UK shipping option No 1.
Click here
for
selected postcodes
.
For "UK offshore islands including Northern Ireland by courier" to
selected postcodes
choose the £15 - UK shipping option No 2.
For
all
other UK destinations - choose shipping option 1. A shipping quotation will be emailed to you for a top up payment.
International - all destinations - choose the "
International shipping quote by e-mail
" shipping option.