We have 2 identical sites on different servers. www.satellitesuperstore.com & www.satellitesuperstore.co.uk If one site is down, please use the other one
Smart Electronic Mirage CX05
satellite and IPTV receiver.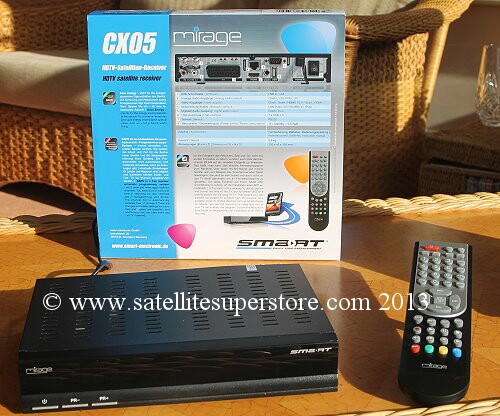 Stream satellite TV to your tablet or phone via Wi Fi
All receivers sent out are packed in an outer box to protect the manufacturers box. We like receivers to arrive in perfect condition.
This exciting new product is a satellite receiver and an IPTV receiver. It will also transmit channels via your Wi Fi to a tablet,
phone or computer is an application is downloaded. With the CX05 a new age of smart receivers is dawning. Adjusted to the mobile
world, this device has the clever smartSTREAM function. Simply feed the channel you receive via satellite through the receiver in
your WLAN infrastructure. Then enjoy at any given location in the house or garden the current TV offering via tablet or smartphone.
After the easy installation of an app on your mobile device, nothing stands in the way of experiencing smartSTREAM.
But the smart CX05 can do much more: using the integrated web radio and YouTube you can access to your favorite radio stations and
videos. Via the integrated media player you can enjoy holiday photos, favorite MP3 tracks and home video on your widescreen monitor.
Mirage© technology, smartSTREAM© (SAT-signal distribution on Android and IOS- System), IPTV, webRADIO and YouTube, LAN port,
FULL HD 1080p, smartLINK (CEC control system), Digital- and analog audio (out) SAT (IN and OUT), USB-port for external hard disk
used for the Mediaplayer: play videos, pictures and music from the USB-memory, Save energy, Front display, Parental control, EPG
Unicable ready, RAPS (Receiver Automatic Programming System), High gloss front, Dimensions (B x H x T): 220x 45x 140mm
Accessories: remote control, batteries, instruction manual. Satellite Superstore and an authorised Smart Dealer / distributor.
Smart Electronic
are a German company that also produce
Smart Titanium LNBs
and professional satellite meters like the
s1
and
s20
.
For a complete system, add the dish kit of your choice by clicking in one of the following links -
Add a 1 sat dish -
60cm Easy Fit
85cm Easy Fit
85cm transparent
60,70,90cm heavy duty
90cm
1.0m
1.1m
1.3m
Add a 2 sat dish -
6 degree 19E & 13E
4.3 degree 9E & 13E
3 degree 16E & 13E or 19E & 13E
20 deg. e.g. 28E & 13E or 19E
Add a 3-sat dish -
85cm Easy Fit
85cm transparent
1m aluminium
90cm heavy duty
85cm Easy Fit with multiswitch
Add a 4-sat dish -
1m aluminium
90cm heavy duty
1.0m aluminium with multiswitch
Add a motorised dish kit -
85cm EasyFit
85cm transparent
90cm
90cm heavy duty
aluminium-
1.0m
1.1m
1.2m
1.4m
1.5m
1.8m
We can scan / load detailed channel data for you -
1 sat
2 sat
3 sat
Accessories.
You may also need a
Homeplug Turbo.
You may also need a
USB Stick.
Long HDMI leads are also available
at -
HDMI leads
up to 20m long. A high quality hard drive option is below for recoding large numbers of TV and radio programs.
Shipping options. Discounted shipping on all web orders.
UK
-
mainland UK delivery is included in the price,
(
VAT info
.) (
Stock levels
.)
so choose "
Mainland UK delivery included
" - UK shipping option No 1 (or
priority options 4-7
).
For "
UK offshore islands including Northern Ireland
" many items including dishes up to 1.0m choose the £15 - UK option No 2.
International - Republic of Ireland - choose the £15 "
fixed price multiple items to Eire
" shipping option
International - within the EU - choose the £38 "
up to 5Kg by courier to EU countries
" shipping option
International - outside of the EU - choose the "
International shipping quote by e-mail
" shipping option.
Please note, although not guaranteed, many 1-3 day standard UK deliveries are actually arriving next day if the order
is received before our cut-off times but there is also a next day priority delivery option at only £6.50 if required
Add a fully prepared 1Tb USB hard drive. (Receiver option).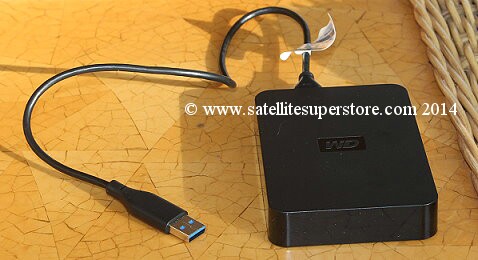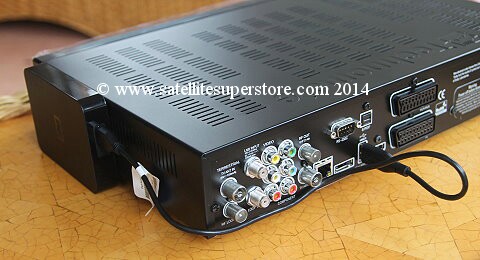 Attractive matching hard drive enclosure. These hard drives have been specially prepared to work with these satellite receivers
(buying a computer hard drive from a shop is unlikely to work without installing special preparation software.) These are fast
AV hard drives ideal for SD and HD recordings and are fully formatted and tested. Large capacity. USB lead included. Plug
in and use. This is a receiver option only. To buy this item without a receiver go to "
1Tb USB hard drive sold separately
".
This hard drive has a £10 discount compared to the "sold separately" price.
In stock and ready for immediate shipping.
Order code OPT1TUSB
Add £89.95