We have 2 identical sites on different servers. www.satellitesuperstore.com & www.satellitesuperstore.co.uk If one site is down, please use the other one
Triax Trilink. Wired control
for all receivers without a UHF output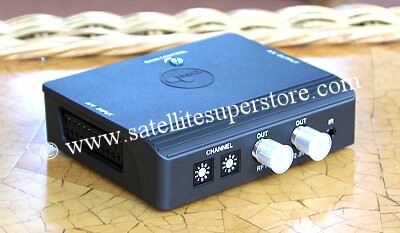 If you are buying a freesat receiver or a non Sky receiver without a UHF outlet, you will need this kit if
you want to distribute TV around the house with control in each room. (Cabling is needed).
The built in modulator converts the scart output of your receiver to UHF and the internal link is
a special TV eye system for non Sky receivers so that your handset has control in other rooms.
No freesat receiver has this built in and so it is an ideal addition. The UHF output can feed
an existing UHF distribution amplifier if watching TV in several rooms with control is required.
A TV eye is included but additional TV eyes can be added.
Click here
to order.
Triax HD Modulator with TV eye control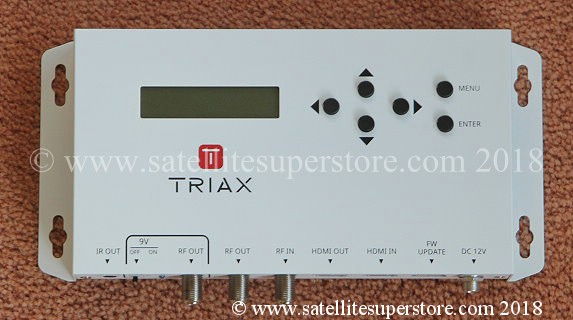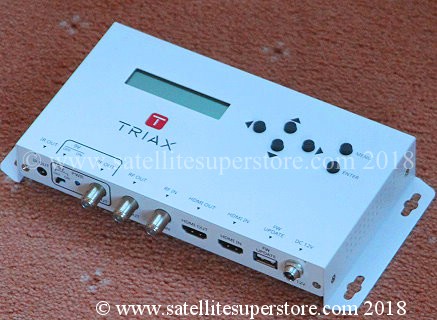 Important -
Unlike many other modulators on the market, this one can be controlled using the TV eye system. It has
control built into it. (Some people already have a TV eye system in their home). Just put a tv eye on the end of the
cable going into the back of your (e.g. bedroom) TV and you can control the satellite receiver in the main room from
the bedroom. Also unlike other modulators, this one has and HDMI loop-through which means when the HDMI lead
goes into the modulator, it also loops out to go to the TV next to it. Most modulators do not have this function
and if not, an additional HDMI splitter is needed. No splitter is needed with this modulator.
The HD modulator, has an HDMI input and a coaxial cable output. Many houses already have a UHF distribution system.
A similar system in the past would take the coaxial output from the UHF (RF) connection of a receiver, maybe to an existing
distribution amplifier in the loft, then cables down to the rooms. This new HD modulator will work with your existing
distribution system. Satellite receivers now have an HDMI output. Connect the HDMI output from your satellite receiver
into the HD modulator. The coaxial output of the modulator can go direct to a second TV elsewhere in the house, or it
can go to a distribution amplifier (which may be in the loft) and then to many rooms. This coaxial cable then plugs into the
digital tuner input of your TV. All you then have to do is tune in the channels on your TV and one of the channels will be the
satellite receiver from the main room. This can be in full 1080p HD. Additional notes. The old UHF system in use for, probably
30+ years from an RF output was analogue and not very good quality. Usually there was an RF modulator built into the satellite
receiver and you had to tune in the analogue tuner of your TV set. Today many flat screen sets have both analogue and digital
tuners. Since there is no analogue TV any more the analogue tuner only tends to be used for tuning the old UHF, RF distribution
system but the new HD modulator works through the digital tuner of the TV in full HD. There have been some HD distribution
system which use CAT 5 cable but this system of HD over coax means that the old existing distribution system using coax can
be used and will it all work in full HD. There is an aerial loop through on the back of the modulator (just the same as the
old analogue loop through in the back of a satellite receiver with RF in and out) and so if the TV aerial can go into the
modulator, the aerial will then be carried with the satellite receiver signal to every TV through the distribution system in
the usual way. Also remember out dedicated telephone support line just for our customers is there to help you
A TV eye is included but additional
TV eyes
can
be added.
Click here
to order.
See our other web site at-
www.primesat.eu
This site includes many products that are exclusive to the Satellite Superstore.
The site contains -
• Products that we manufacture (e.g. We have manufactured heavy duty wall mounts and ground stands since 1991).
• Selected products which have our own Primesat brand name and have been prepared to our specifications.
• Selected products where we have been appointed the authorised UK or European distributor by the manufacturer.
www.primesat.eu
is an information site. Here you will find full specifications and many detailed pictures.
To buy any of these products, simply order them on this web site.
Link to our own satellite museum site
Satellite Museum. A museum of vintage satellite receivers.
See
www.satellitemuseum.com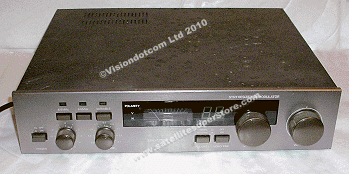 For old satellite receivers with knobs on and read about "
A History Of Satellite TV
".
Also see
www.rewindmuseum.com
. A Museum of vintage consumer electronics.
Vintage reel to reel video recorders. Vintage VHS and Betamax VCRs. Vintage video cameras. Vintage
Laser Disc. Vintage Computers. Old telephones. Old brick mobile phones. Vintage Hi Fi, Old reel
to reel audio and early audio cassette decks. Including, the history time line of vintage
consumer electronics ... and much more .....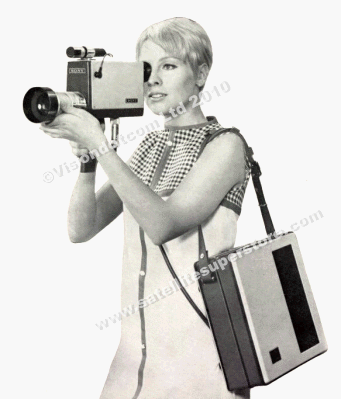 It is well worth a visit.
Only The
Satellite Superstore
brings you
great products, advice and it's own museum.