1.2m Raven motorised dish.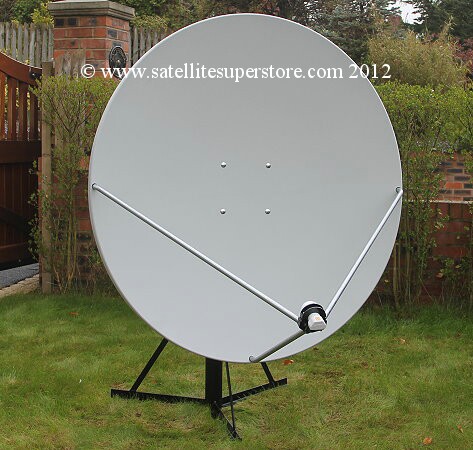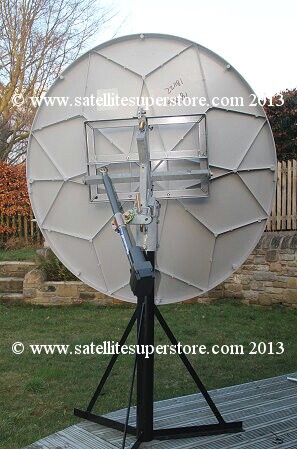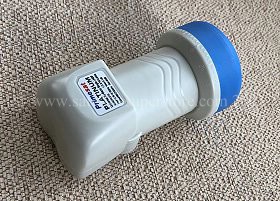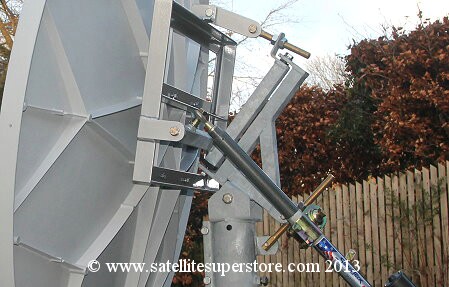 Raven (Formally "Andrews" and before that "Channel Master") 1.2m dish. "Probably the best 1.2m dish in the world"
The one piece reflector is thermoset-molded glass fiber reinforced polyester for strength and rigidity and surface
accuracy. An ultimate dish system for enthusiasts. Gain 42.0 dBi at 11.95Ghz. 3dB beamwidth - 1.6 degrees. Cross
polarisation - 30dB. The new
Primesat CH12MK4
heavy duty polar mount and actuator is designed for the 1.2m
Raven dish. The new Mk 4 has been completely redesigned compared to earlier versions. This mount is produced by our
sister company
www.primesat.eu
for the Satellite Superstore. It is designed for the 1.2m Raven dish (dish not included).
This mount is very well designed. The dish does not stand a long was away from the pole. With this latest Mk 4 version,
the mount is a close and well balanced assembly. The framework is very strong and well engineered. Fine adjustment is
easy with a spanner. Primesat CH12MK4 heavy duty polar mount and actuator. The polar mount is "dipped galvanised".
The "dish back plate frame" is etch primed and painted with galve paint. This provides a long term durable finish
especially in high salt areas. All of the nuts and bolts are made of stainless steel except the main elevation and
declination adjusters which are made of brass. The polar mount includes a frame that is designed to fit on the back
of the Raven 1.2m dish using the 4 bolts that come with the Raven dish. An genuine
Superjack 18" actuator
is
included. This dish / polar mount motor unit is designed to clamp onto a 76mm (3-inch) diameter pole. An ideal
ground stand is the
Primesat GS761FW3
stand but see a discounted option below. An ideal wall mount is the
Primesat WMS45076
mount.
4 core motor control cable
for this motor is available.
A single
Primesat Platinum
high performance 0.1dB LNB from "
Primesat Professional Products
" is included.
This LNB is ideal for low signal areas. Suitable for HD. Suitable for 3D. Suitable for 4K. A very high quality product.
White is an excellent colour for an LNB for two reasons. The first is it looks better. When looking up at a satellite dish,
there is mostly a light or cloudy sky and so white against the sky blends in very well. The second reason is more technical.
White keeps the LNB's internal heat in during the winter and in the summer white reflects the external heat from the sun.
This keeps the LNB cooler and results in less extreme temperature cycling. Temperature cycling should be kept to a
minimum for performance to be maintained. A white cap is even more important as it reflects the suns heat (which can
focus on the cap) and prevent a hole from burning through the cap. If there was a hole in the cap the spiders can crawl
in and block the signal. Only the TV signal should go through the cap, not the heat. In addition, there are better
connections due to gold connectors. Using a Diseqc receiver, a V box is also needed. See more details at
V Box
This converts Diseqc commands to 36 volt positioning and is fully automatic. It also introduces more power to drive
heavier duty 36 volt motors. See
Wall mount
options and the discounted
ground stand
below.
It is, possible to upgrade the single LNB to a
twin
,
quad
,
octo
or
quatro
LNB.
Another alternative is to consider using the
Raven matched feedhorn and c120 LNB
options below.
Note - a
fixed version
of this dish is available and an
inclined orbit motorised version
of this dish is also available.
Shipping information.
Please note that due to the large volume of the 1.2m dish there are extra (top up) delivery charges for "out of area UK postcodes".
Most UK postcodes have no extra charges
. Areas like the Scottish highlands are not covered. Therefore delivery
is included to
selected mainland UK postcodes
. There is a £15.00 delivery charge to offshore islands including Northern
Ireland to
selected postcodes
. If your postcode is not on the list, this may be because it is "outside of main city areas" and
so
click on the link here
to see if your post code is covered. If your postcode is on the list, delivery charges are in "included to
mainland destinations" (but remember to select the £15 option for offshore islands). Postcodes are provided by "Parcelforce".
If your postcode is not on the list, you will need a shipping quotation. If you place an order, the shipping quote will be emailed
to you. You can then either accept the quote and pay at the link provided, or decline the quote and your order will be refunded, or,
you may prefer to email us for a quote on the
contact page
. If your postcode is on the list please also note that next day
delivery is not available. This is a 48 hour "large item delivery service". Most UK postcodes are on the list.
Shipping options.
(
VAT info
.) (
Stock levels
.)
UK
-
mainland UK delivery (selected postcodes only) is included in the price,
so choose "
Free UK mainland delivery
" - UK shipping option No 1.
Click here
for
selected postcodes
.
(Some offshore island postcodes are covered by the free deliverey option so
check it out
)
For "
UK offshore islands including Northern Ireland by courier
" choose the £59.00 shipping option.
International - Republic of Ireland - choose the £59.00 shipping option.
International
- within the eu choose the £89.00 option. Outside of the eu - the "
International shipping quote by e-mail
" option.
).
" choose the £59.00 shipping option.
International - Republic of Ireland - choose the £59.00 shipping option.
- within the eu choose the £89.00 option. Outside of the eu - the "
" option.