This is the feed support clamp that fits on the ends of 3 arms of the Raven
(formally Andrews and before that Channel Master) 90cm, 1.0m, 1.2m 1.8m and 2.4m offset dishes.
This is a 40mm clamping LNB support boss. Bolts nuts and washers are included.
Raven feedhorn support boss assembly
In stock and ready for immediate shipping
Click here
to order.
C Band Feed Support Boss for Raven Dish.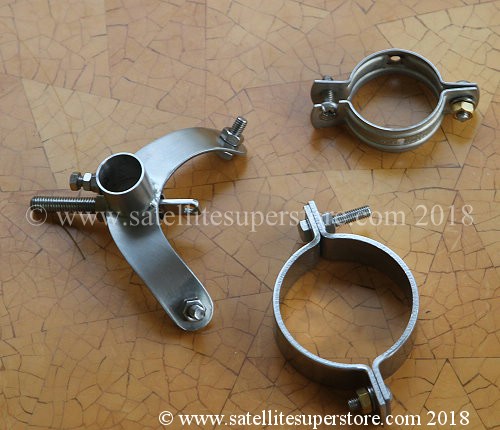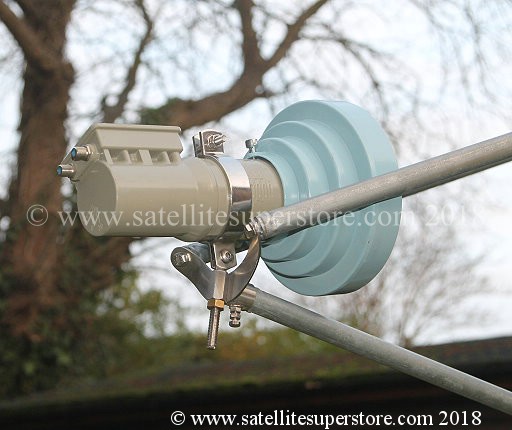 Designed for the
Raven
fibre glass offset dishes, 0.9m, 1.0m,
1.2m,
1.8m
and
2.4m
Note, Raven dishes were formerly "Andrews" and before that "Channel Master".
This is a high quality stainless steel bracket / feed support boss for C Band LNBs with an offset feedhorn. (60mm)
It cames with extra parts so that a Raven Ku band feedhorn or Ku Band LNBF (universal LNB) can also be fitted. (40mm)
At last a very high quality product made from stainless steel for fitting C band LNBs onto the Raven offset dish.
Click here
to order.

Raven 1.8m motorised dish,
inclined orbit motor, matched feedhorn.
and LNB options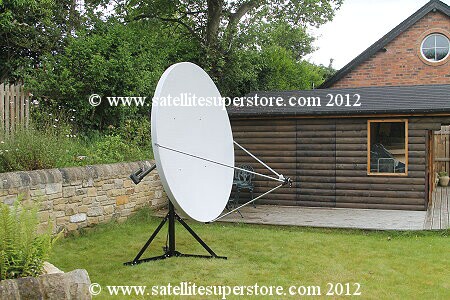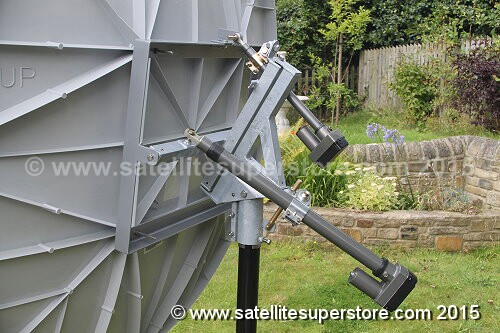 Raven 1.8m dish with inclined orbit polar mount using two actuators
Click here for more information and to order

Raven 2.4m motorised dish with
Raven feedhorn & C120 Inverto LNB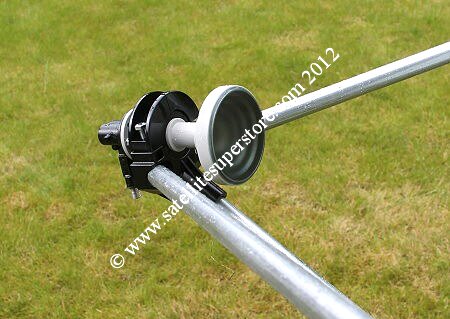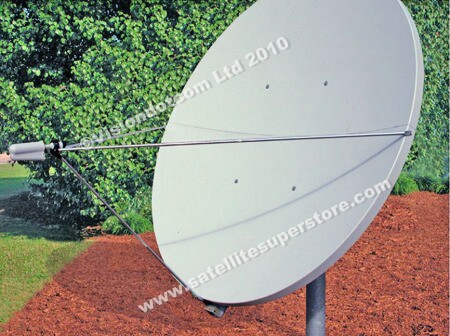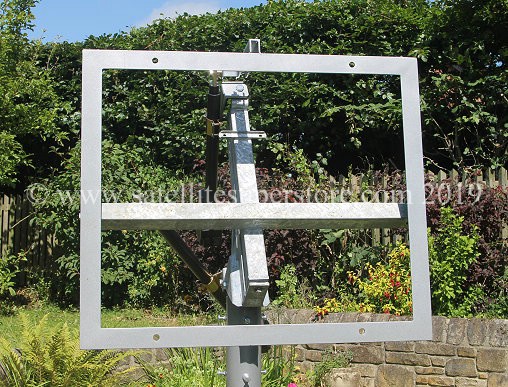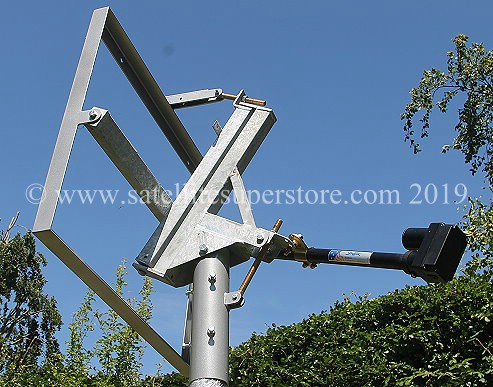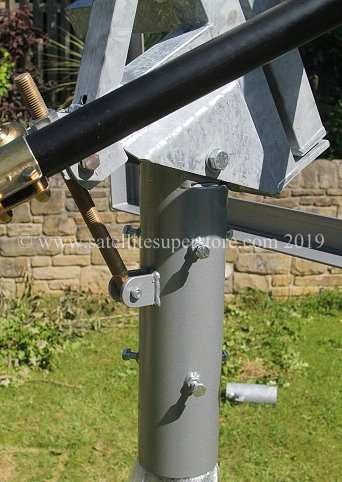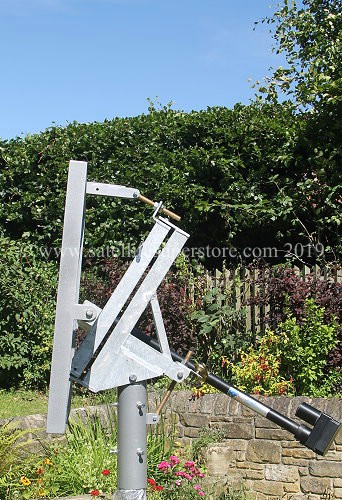 Raven / Primesat motorised 2.4m dish kit. CM24PR36I.
Heavy duty Raven 2.4m motorised dish kit including Primesat polar mount, heavy duty actuator and Raven matched
feedhorn with C120 Inverto LNB. This is a Raven (formerly Andrews and before that Channel Master) 2.4m dish. Very
high gain one piece proven design. The motor unit is a
Primesat CH24100 polar mount
and
36 inch SuperJack
actuator. The polar mount is dipped galvanised with a steel back plate to fit the Raven 2.4m dish. All of the nuts & bolts
are stainless steel and the elevation adjusters are made of brass. A 36-inch heavy duty genuine SuperJack QARL-3636+
actuator is included. A matched Raven feedhorn is highly recommended for this Raven 2.4m dish and is included.
Using this feedhorn with a C120 flange LNB provides better matching and more good signal (a higher signal to noise
ratio) than a standard 40mm clamp LNB. It is best not to invest in a high quality Raven dish and use a compromise
40mm mass market LNB where the integrated feedhorn is designed for ANY dish but is not matched.? Taking this 2.4m
dish as an example, a 40mm LNB may only illuminate 2.3m of dish area or perhaps 2.5m of dish area (i.e. including
noise from round the edges) but with a matched feedhorn, exactly 2.4m of dish area is illuminated. A high output
C120 Inverto LNB included (good for longer cable runs). Twin, quad and quatro C120
LNBs
are optional.
The one piece reflector is thermoset-molded glass fiber reinforced polyester for strength and rigidity and surface
accuracy. An ultimate dish system for enthusiasts. The
Primesat GS65160 ground stand
is recommended for this dish.
Technical - Gain 47.6 dBi at 11.95Ghz. 3dB beamwidth - 0.7 degrees. Cross polarisation - 30dB, Collar fits a 76mm pole.
Using a diseqc receiver, an optional
V Box
is also needed. This converts Diseqc commands to 36-volt positioning and
is fully automatic. it also introduces more power to drive the heavy duty 36 volt motor.
A
discounted V box
option is available below. A
C Band LNB support boss / bracket.
is also available.
An
inclined orbit motor
version of this motorised dish is also available.
Shipping options.
Free UK mainland UK delivery to most post codes. (There may be additional charges to Scottish highlands)
so choose "
Free UK mainland delivery
" - UK shipping option No 1.
Or for UK offshore islands (and Eire) by courier - oversized delivery - quote by e-mail (or
ring
us).
All internationals - Within the EU or outside of the EU - choose the "International quote by e-mail" shipping option (or
ring
us)
Raven motorised 2.4m dish kit with Raven feedhorn & C120 Inverto LNB
Order code CM24MOT
Click
here
to order.

Raven 2.4m inclined orbit motorised dish.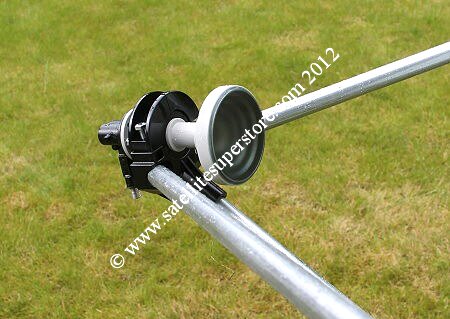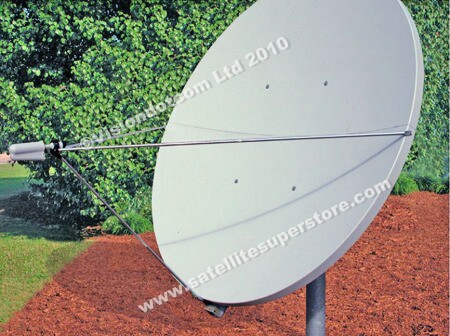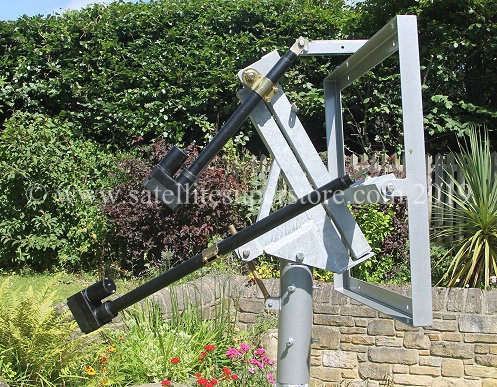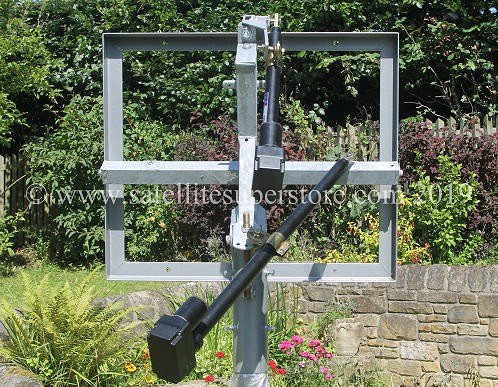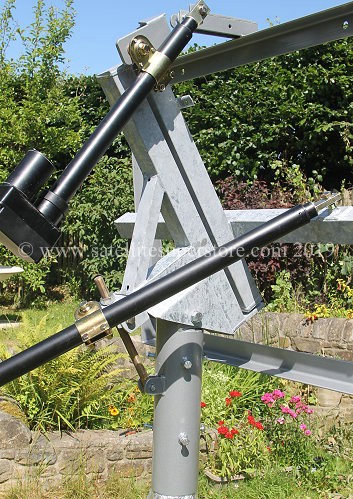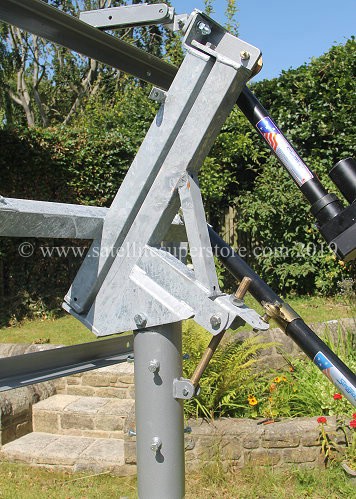 Raven 2.4m dish with inclined orbit polar mount using two actuators.
Heavy duty Raven 2.4m dish with inclined orbit polar mount, Raven matched feedhorn and c120 Inverto single LNB.
Click here
to order.

Heavy duty wall mounts and ground stands are also available from the
wall / ground stand page.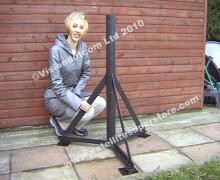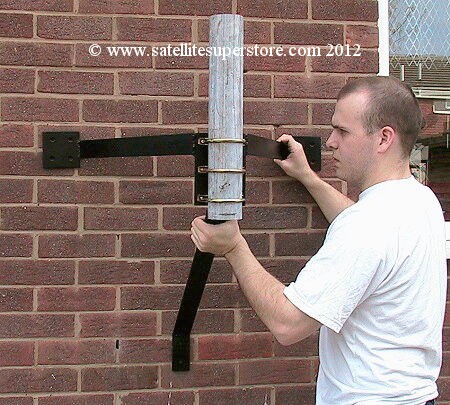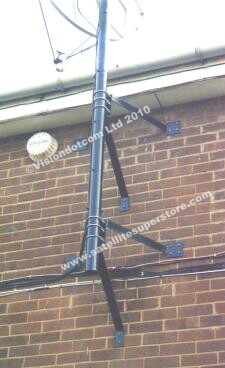 The differences between prime focus
and offset dishes.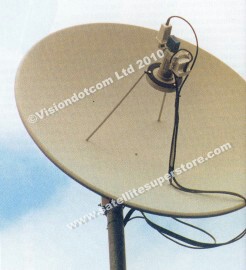 A prime focus dish is shown above.
This type of dish is circular NOT oval. It has 3 feed support arms (some use 4 arms) and the 3 arms
converge in the centre. Each arm is 120 degrees apart. The feedhorn uses concentric scalar rings.
The concentric scalar rings reduce noise and improve signal to noise ratio with prime focus dishes.
An offset dish is oval and is higher than it is wide (some are wider than they are high). They use either
one feed support arm (at the bottom of the dish - see bottom left hand picture) or 3 feed support arms
(again all in the bottom 1/2 of the dish - see bottom right hand picture). They require a feedhorn
that is in the shape of a horn without scalar rings.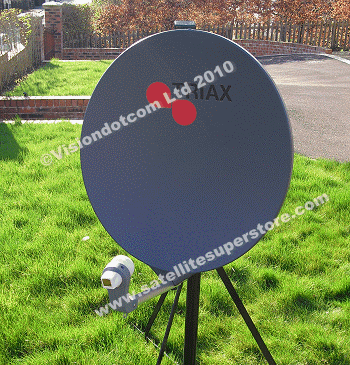 Larger, higher quality offset dishes will use three support arms as the extra two side support arms
provide better rigidity when dish sizes exceed 1.0m. The offset dish shown above right is the
excellent high gain
Raven 1.8m
dish.
As a general rule the two types of dishes are simply two ways of doing the same job, however, an
the offset dish, if well engineered usually has significantly more gain than the prime focus dish.
It is never really that simple. It is true that petalised offset dishes usually have poor gain but
a one piece well engineered prime focus dish can be better than a poorly engineered offset dish.
As usual you get what you pay for. Cheap prime focus petalised dishes are to be
avoided and we don't sell them.


ADVICE. There are 8 advice sections.

1. Advice on recognising quality products & rejecting junk.

At the budget end of the market it is very important not to go too cheap. The motorised
dish has to be capable of withstanding high wind loads and some low cost products are not
capable of doing this reliably. It is easy to recognise this type of product. A number
of manufacturers make universal fit upgrade motors that are not designed for any particular
dish. These can be recognised by the fact that they not only fit on the main wall mount
pole but the rotating output of the motor is also a (narrower) pole that a dish can clamp
to with U clamps. It other words, because it was not designed for a particular dish,
it does not properly bolt onto the back of the dish with proper fixings into the dishes
back plate. The result of this is that in high winds the dish can slip on this narrower
rotating pole. We know of some products that need resetting at least once per month!
Many of these units have many plastic (not metal) parts and are small. One notable
exception is the Jeager 99G H to H motor where the rotating pole is quite thick and
the motor is well built. It is still not an ideal way to attach a dish but this combination
works reasonably well. The third way to recognise junk is to try to judge the quality of
construction of the polar mount or H to H motor and feel the weight of it. The excellent
1224 H to H motor for dishes of 90cm, 1.0m, 1.2m and greater (see below) if picked up in
it's box, is heavy enough to think twice about lifting it! It costs £179.00.
Budget motors cost (perhaps) about £80. You get what you pay for. There are some budget
motors that are quite well designed and do bolt properly onto the back of a dish and the
Triax polar mount and straight actuator shown lower down this page is one example.
There are few motors of the thirdary rotating pole type that can be recommended. If you
are buying a complete system, why buy an small upgrade (rotating pole) motor with a narrow
pole prone to slippage as part of the kit? (many dealers make them part of the kit.) Ask
the right questions when you buy and avoid the junk. Buy a motor that is either
made by the same manufacturer as the dish and hence properly bolts onto the backplate of
the dish. Or buy from a manufacturer that has made a motor for a particular dish and
again bolts properly on the back. Look at the polar mount / motor critically and judge
whether it has been well engineered. Would you buy a car that looks as if it would break
down as soon as it is driven round the corner? Why buy a motor that looks like it will
break or slip in high winds? Apply the same logic to the design of the very important wall
mount. Unless a company manufacturers their own (purpose built for satellite dishes)
wall mounts, most commercially made units are also junk. We have been to countless
insurance claims. Most commercially made wall mounts are designed for aerials not dishes
and some that are designed for dishes are not strong enough to put an 80cm on. Mounts
should be big enough to cover a large area of brickwork. The Vision wall mounts for 80cm
to 1.2m dishes are held up with 10 coach bolts into the brickwork. There are two things
which should make alarm bells ring. A "Free" wall mount with the system. This is likely to
be useless. A wall mount with only 3 or 4 bolt fixing. OK for a 60cm but nothing larger.
The final thing to check is the thickness and material of the pole. It should be Steel not
alloy and the steel should be thick. (e.g. 1/8 inch minimum. not wafer thin walled.
We have seen poles snap in the wind even when made if steel if they are thin. To conclude,
use your judgement to choose well engineered heavy-duty products. Cheap junk will always
cost you more in the long run. If a dealer offers a complete (e.g.) Strong system or
Echostar system remember that only Strong and Echostar receiver may be included. The dish
and motor could be made by anyone and the dealer could be including junk to get the price
down. Never buy a system without knowing the make of every component in it. Would you buy
a Vauxhall Cavalier car and caravan combination without first checking what kind of caravan
is included in the deal?
Dishes with motors start at about £150 and go up to £400 for an 80/90cm. If the dealer does
not say what kind of dish and motor is included with the package, do you think it will be
a good one or (more likely) a cheap piece of "junk" so that a tempting price can be offered?
These dealers rely on the fact the customer does not know enough to tell the difference
until it is too late. They are the same type of dealer that are difficult if not impossible
to deal with once you have spent your money. There is nothing wrong with comparing prices
as long as you know exactly what you are getting for your money and you have avoided dealers
where back up in the future may be a problem.

2. Good budget dishes with a good gain.

Until recently the budget range of dishes was made by Lenson Heath. These dishes were good
value as Lenson also made a bolt on polar mount and (as an option) Jeager made the 128 H to H
motor which also bolted to the backplate on the Lenson Heath dish. The reflector had a
respectable gain and was made of Aluminium. The 128 is still available for owners of Lenson
fixed dishes wishing to upgrade to motorised, or for replacement purposes in case the existing
motor has worn out. Triax now own Lenson Heath and the dishes are now the Triax TD range.
These dishes have a higher gain for their size than any other make of dishes in that price
range. Triax now have a new polar mount that properly bolts onto the back of the new TD
dishes. It is based on the original Lenson Heath design. The Jeager 99G H to H motor can
also be used. This has a thirdary rotating pole and U clamps clamp to it. This is not as
good a fixing as a bolt on type but because the thirdary pole on the Jeager is much thicker
than on other universal fit motors, it does get a good hold. In addition since the 99G IS A
128 with a different fixing arrangement, the motor is quite heavy duty for dishes up to 1.0m.
(we would not use a 99G on a Triax 1.1m dish.) The high gain 88cm Triax dish is the most
popular and has a gain equivalent to a 95cm of many other makes (not including Channel
Master or Unicorn). (We would NOT recommend ANY other universal fit motor than the 99G)

3. Very high gain offset and prime focus dishes.

Of all the dishes we have tested, three makes had the highest gain. Indeed the gain of all
three makes the gain was almost the same. Substitution of one dish for another produced no
noticeable improvement. These three dishes were, the Channel Master offset dish, the Unicorn
(formally SCT) reference dish and the Gregorian dish. Let us take these dishes one by one
and discuss their merits.

The Gregorian dish,

This was a high gain dish, which has now been discontinued. Spare part, motors are no longer
available. Pointless saying any more.

The Channel Master range. 90cm, 1.0m 1.2m
(as featured on the 3rd Satellite Video)

Again a high gain offset dish. It uses a webbed reinforced plastic reflector that cannot be
warped by transportation problems. The polar mount takes a 12 inch actuator and is VERY
heavy duty. This is because everything is "beefed up" to take a 3 inch diameter pole. With
the right wall mount (e.g. one of ours) this dish would take just about anything the wind
could throw at it. In addition the price (e.g. £239.00 for the 1.0m including LNB and VAT)
is very reasonable. The higher price compared to a budget range of dishes buys a great
deal of heavy duty engineering.

The Channel Master with Horizon To Horizon Supermount motor option.
(see picture at top of page)

The best H to H motor available for dishes up to 1.5m is the big heavy duty Jeager 1224
Supermount. (As featured on the 1st and 3rd video. And on the 3rd video it is shown bolted
to a Channel Master) This motor has twice the resolution of any other motor as it has twice
the counts between satellites. It can withstand the highest wind loads. (designed for 2m
mesh dishes, so a 1.2 is no problem) As stated earlier, a good test if a motor is to try to
pick it up. The 1224 IS HEAVY. And yet being an H to H it is very neat It is neater than a
polar mount and actuator. It does however add £100 to the cost of the Channel Master
compared to the polar mount option.

The Unicorn prime focus dish.

Very well made with high efficiency. it also uses the excellent 1224 motor. It is expensive
but is ideal for a top of the range receiver.


4.The difference between offset & prime focus dishes.

It's two ways of doing the same job. Don't worry about it. There are good and bad offset
dishes and good and bad prime focus dishes. It's all down to how well a dish is made. Since
offset dishes are also made for the mass fixed dish market there are a large number of
poorly engineered cheap units. Prime focus dishes tend to be made for the specialist
motorised market and are usually more expensive. Therefore there is less likelihood of
finding a badly made unit. Design differences are interesting but not really important.
Don't worry about it. How well a dish is made is more important than the design
considerations of offset verses prime focus.

5. Polar mounts and straight actuators.

Advantages,
* Less expensive than H to H motors.
* Well designed units tend to be very strong since the actuator is bolted at a distance out
from the centre of rotation. This makes the dish kit more able to withstand high wind loads.
* A few years later when the motor needs replacing, straight actuators are not expensive.
* When changing the motor the dish settings (elevation etc.) are not disturbed since the
polar mount is not removed. (only the actuator is removed.)
* Even though it does not travel as far as an H to H the span is usually sufficient.

6. H to H motors. SEE THE BIG 1224 SUPERMOUNT at the top of the page. (Middle)

Advantages.
* neater in appearance.
* can be just as heavy duty providing a motor designed for a bigger dish is used on a
smaller dish.
* travels from 70E to 70W (from UK) as opposed to a polar mounts 45E to 45W


7. Advantages of using a separate feed & C120 flange LNB

For dishes up to 1.0m there is little difference between an integrated feed LNB compared
to using a separate feed and C120 flange LNB. Dishes of 1.2m and greater benefit from using
a separate feed made by the dish manufacturer and designed to exactly illuminate the exact
dish area. Illuminating too little dish area causes less gain. Illuminating too large an
area results in (Infra-Red) noise from around the edge of the dish to decrease signal to
noise ratio. Hence less useful signal. A 40mm clamp integrated feed LNB (produced by a
different manufacturer than the one that made the dish) is a compromise as far as matching
to a dish area is concerned. It is to be avoided on quality dishes of 1.2m and greater.

8. Pole diameters, wall mounts and ground stands.

Wall mounts should be made of thick steel. They should be held up with at least 10 coach
bolts (for dishes up to 1.2M). The pole should be made of thick walled steel. Fully welded
is better than flat packed which compromises strength. 3-inch poles are stronger and stiffer
than 2-inch poles.


4. Advice on Diseqc Motors.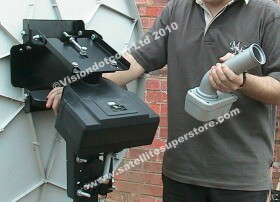 This is a development where digital receivers now contain software to control a
Diseqc motor (right hand side in photo) rather
than a hardware positioner board to control a standard 36V motor (left hand side in photo) motor.
The problems with Diseqc motors and why the "V box" (link to V Box below) is so necessary with larger dishes.
Diseqc is a new development where digital receivers now contain software to control a Diseqc motor rather
than a five amp hardware positioner board to control a standard motor. The motor control works digitally
down the coax signal lead and a 4-wire control system is not required. Also the concept has become an
industry standard. Sounds good so far but what are the drawbacks?
1.
Diseqc motors have all been lightweight universal fit motors with a
thirdary rotating pole that the dish clamps to. They are not designed for a particular dish and they do
not properly bolt onto the back of a dish. Slippage can occur in high winds at the thirdary rotating fixing.
2.
The coaxial cable is designed to carry the signal from the LNB to the
satellite receiver. It is also designed to provide power to the LNB. The satellite receiver provides about
500 to 600 mA (0.6A) to power the LNB. Typically an LNB might draw about 300 mA. This leaves 200 to 300mA
(0.3A) to power up a Diseqc motor. Clearly a proper hardware (4 wire control system) positioner which
can provide up to (typically) 3 to 5 amps is a far better system as it can drive better bigger, stronger,
quicker motors. With 300mA a Diseqc motor must be very small. The only way a very small motor can move
a dish is by putting a large gearbox on the end of the motor to provide "leverage". This means that
a Diseqc motor moves very slowly from one satellite to another due to the large amount of gearing.
Small motors & thirdary thinner rotating poles which the dish can slip on are far from ideal for use
with even larger dishes (e.g. 1.0m+ or 90cm + in exposed locations.). Storm force winds in the UK can
provide serious wind loads on a motorised dish. You really do not want to be worrying about whether the
dish is going to come down every time it is windy.
Our opinion of a recent conversation,
I was talking to another dealer the other day. He said he fits a Diseqc motor to the Channel
Master 1.2m dish face. The Channel Master is a heavy dish and the wind loads on a 1.2 can be massive.
In addition, this Channel Master dish is available with a wonderful heavy duty Channel Master
polar mount and actuator (or the big 15 Kg 1224 Supermount H to H motor. See our motorised dishes page.
link below) and yet this dealer fits a (i.e small - usually 3 Kg) universal fit thirdary rotating
pole Diseqc motor to this excellent 1.2m dish face!!! It is like ordering a 6.5 litre Rolls Royce
from a dealer and saying "will you please fit a 1 litre Scoda engine before supplying it."
Absolutely crazy! Unfortunately 99% of dealers (and the magazines) are prepared to go down
this route. What we need is a bit of common sense. Why is wind load never considered? Every year we see
numerous insurance claims. We have never seen a Diseqc motor yet that we would put on a dish of over 1.0m
Our recommendations.
For motorised use, The Diseqc motor works fine on steel dishes up to 90cm and aluminium dishes up to 1.0m
in "normal" locations. For larger dishes, or exposed locations (e.g. above the gutter on a high pole
or on the west coastline of Scotland or Ireland,) use a V Box and a 36v motor.
The V Box will enable heavy duty (non Diseqc) motors to be used that move the dish quickly and efficiently
without the dangers of breakage or slippage in high winds. (motors that properly bolt onto the back of a dish)
We never make recommendations without explaining the facts and the facts are based on the laws of Physics.
Hopefully you will realise that we are making sense.
THE V BOX PAGE.
Latest Diseqc motor information 17/01/04
We have tested a new "Cryptic" Diseqc motor last weekend.
The reason for testing it was that for the first time a motor became available
that bolted onto the back of a 1.0m aluminum dish. Being a Diseqc motor
it was expected that it would still be slow (and it is) but this looked
very promising as the big problem of "universal fit – fits nothing properly
and slips in the wind had been overcome. We really wanted this solution
to work for us. It was set up with a Digiquest 8000 and using the USALS
facility all satellites were programmed in. Looked great.
However !
Taking hold of the edge of the dish, (at a distance of about 0.5m from the centre
Of rotation) there was play (movement) of about 7 mm. This was found to be in
The actual motor shaft between the rotating output shaft and the motor body
(i.e. in the gearbox) Looking at the shaft the movement was about 0.5 of a degree.
Now - last Saturday there were moderately winds (not gale force) and the dish
Moved on and off the satellite (no signal) every few thirds. Not a "peaky"
Low power satellite! We were on the Hotbird.
We contacted the supplier and were told that there is a certain amount of play
In all Diseqc motors as they use a worm drive to gear them down.
(small low current motor – large gearbox)
The only time you might get play in a 36 volt motor is when it has been used every
day for many years.

A typical e-mail. We get a few of these. (Dated May 03)

Dear David,
Did not believe in UFOs until recently, when looking through my window I saw a UFO descend
vertically and crash. I soon found it was my 1 metre Channel Master dish, still firmly attached to top of
Jaeger mount, having left behind rest of mount, still on top of pole. If you will examine the
top plate of a 128, you will find it is held on by 4 small countersunk screws. In my case,
wind on dish had managed to tear the heads off inadequate sized screws. If you check 128
you will my point, that screws are too small.

Reply,
The 128 is too small a motor for the Channel Master 1.0m as it only weighs 4 KG
The correct motor (2 types) - both weigh 12 KG each
As shown at www.satellitesuperstore.com/motorisedsatellitedishes.htm and our motors page
So nothing you say here is a surprise to us as we tell people that every day of the
week and follow other dealers insurance claims round. You should use the Channel
Master polar mount and 12 inch actuator or the 1224 motor with plate.
Dave

Note. The 128 is a 36 volt motor not a Diseqc motor but it was still too small for this dish!

Update Nov 04.

More recently we have had reports of people putting Diseqc motors on 1.2m dishes!
No wonder our insurance premiums are so high these days!



Update 20th July 06
The Technomate TM-2200

We have tested the latest Technomate Diseqc motor and it is better than any previously tested
It works well with 90cm steel or 1.0m aluminium dishes and it does move faster than
other Diseqc motors. There is no noticeable play in the gearing.
We are therefore pleased to include it in our product range. Only dishes
on our site that fall within the size recommendations just noted are
available from us with this motor. For larger dishes or exposed
locations use a 36V motor.



Dish sizes disclaimer.
Please not that dish sizes vary.
Manufactures quote a particular size of dish, however, dishes are not circular, they are
oval and the dish diameter referred to in their literature and on our site is an
approximation and should not be taken as an exact dimension.



Discounted wall mount options.
50mm Diameter Pole South facing wall mount (Large Elbow).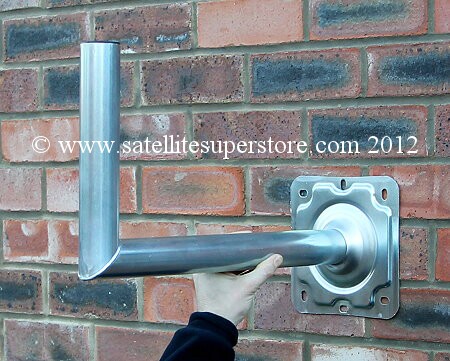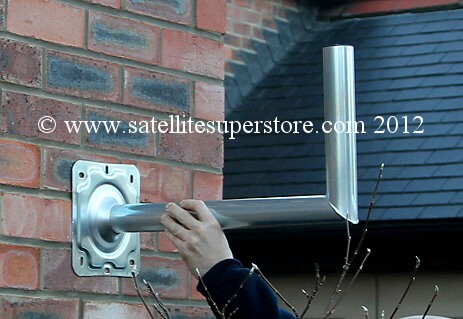 480mm stand off.
(If used with a 90cm - 1.3m dish this larger stand off allows the dish to be at right angles to the wall.)
This mount is not manufactured by Satellite Superstore (the
heavy duty mounts
are) but it is one of the best mounts we have seen.
Not as heavy duty as our own but in all but the most exposed locations it is fine. The square plate is larger than plates fitted
to most elbow mounts. It is constructed with electroplated steel It only uses 6 bolt holes and it is a strong low cost solution
for most situations. 50mm (2") dia. mast. 480mm stand-off. Suitable for dishes up to 1.3m. 6 bolt fixing. Coach bolts and plugs
for fixing on the wall are available from the
satellite cable
page (6 required) This mount is also ideal for use
with the Technomate diseqc motor in the motorised dish kits.
50mm Diameter south facing wall mount (Large 6 bolt fixing Elbow).
Dish kit or system option. Large Elbow 1DL. 6 bolt fixing. 48cm stand off.
This item is discounted when added to a dish order compared to buying it separately.
Order code ADD1DLA
Only £29.95
System option Only. Elbow 1D. Ideal for dishes up to 85cm.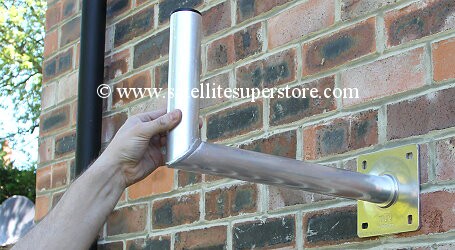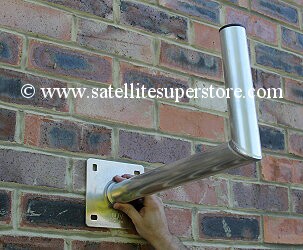 4 bolt fixing. 50mm pole diameter. 43cm stand off.
Coach bolts and plugs
for fixing on the wall are available from the
installation equipment
(4 required)
System or dish kit option only. To order separately, order from the
wall mounts and ground stands
page.
System option Only. Standard wall mount 1D. 50mm pole dia. with 4 bolt fixing.
Order code ADD1DOP
Add only £12.95 (Discounted)
System option Only. Hot dipped galvanised mount.
Ideal for dishes up to 80cm.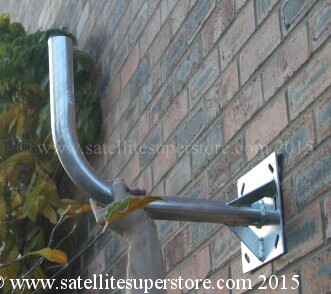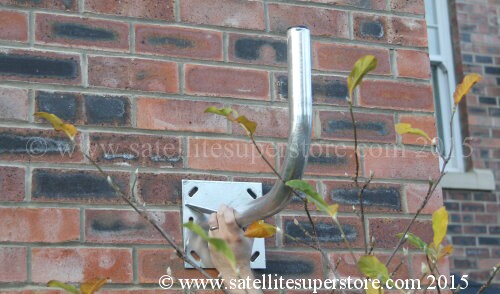 370mm stand off south facing wall mount. Weight - 2.8Kg (thick material).
This mount is "hot dipped galvanised" and is designed for high salt areas.
It uses heavy gauge steel and is galvanised which is the best method available for a thick coating.
Ideal for dishes up to 80cm. Also fine for 80cm dishes where the wall is mainly south facing.
With a stand-off of only 370mm it is not ideal for 80cm dishes or larger on south eastern or south western.
walls as the dish would not have the clearance to point up or down the street. 6 bolt fixing.
Coach bolts and plugs
for fixing on the wall are available from the
installation equipment
(10 required)
System or dish kit option only. To order separately, order from the
wall mounts and ground stands
page.
41mm pole, 370mm stand-off dipped galvanised mount.
Order code ADDWGAL
Add only £29.95 (Discounted)


Long pole "above the gutter" wall
mounts for fixed dishes up to 1.0m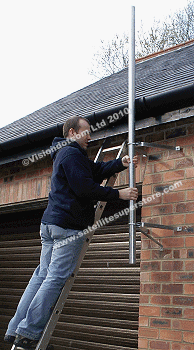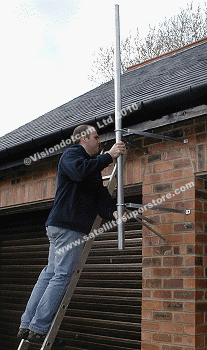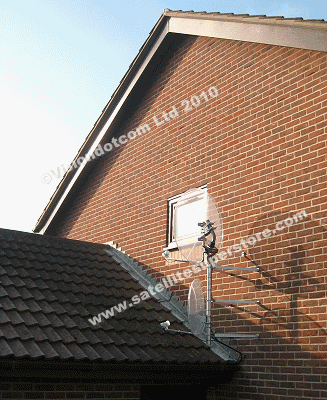 5 bolt fixing. Various stand off distances and 2 pole lengths - 1m and 2m. All pole diameters are 50mm
The poles are galvanised. the stand off distance is from the wall is to the inside of the pole.
If the dish is larger than 1.0m use a heavy duty "above the gutter" wall mount from our
wall mounts & ground stands
page or a ground stand if applicable.
The following mounts are available from the
Wall mounts & ground stands
page,
Long pole wall mount 1. Stand off - 300mm. 2m galvanised pole.
Order code LPMOUN1
Long pole wall mount 2. Stand off - 500mm. 2m galvanised pole.
Order code LPMOUN2
Long pole wall mount 3. Stand off - 300mm. 1m galvanised pole.
Order code LPMOUN3
Long pole wall mount 4. Stand off - 500mm. 1m galvanised pole.
Order code LPMOUN4


See our other web site at-
www.primesat.eu
This site includes many products that are exclusive to the Satellite Superstore.
The site contains -
• Products that we manufacture (e.g. We have manufactured heavy duty wall mounts and ground stands since 1991).
• Selected products which have our own Primesat brand name and have been prepared to our specifications.
• Selected products where we have been appointed the authorised UK or European distributor by the manufacturer.
www.primesat.eu
is an information site. Here you will find full specifications and many detailed pictures.
To buy any of these products, simply order them on this web site.

Link to our own satellite museum site
Satellite Museum. A museum of vintage satellite receivers.
See
www.satellitemuseum.com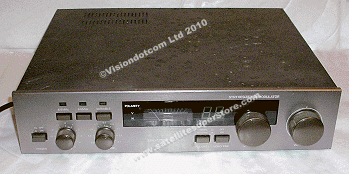 For old satellite receivers with knobs on and read about "
A History Of Satellite TV
".
Also see
www.rewindmuseum.com
. A Museum of vintage consumer electronics.
Vintage reel to reel video recorders. Vintage VHS and Betamax VCRs. Vintage video cameras. Vintage
Laser Disc. Vintage Computers. Old telephones. Old brick mobile phones. Vintage Hi Fi, Old reel
to reel audio and early audio cassette decks. Including, the history time line of vintage
consumer electronics ... and much more .....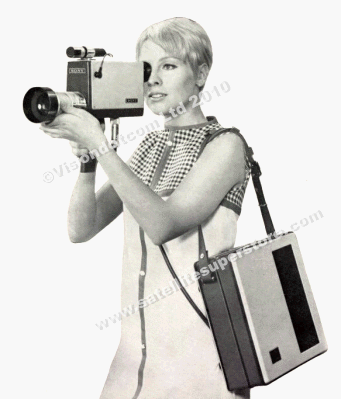 It is well worth a visit.
Only The
Satellite Superstore
brings you
great products, advice and it's own museum.


You may be interested in two other web sites.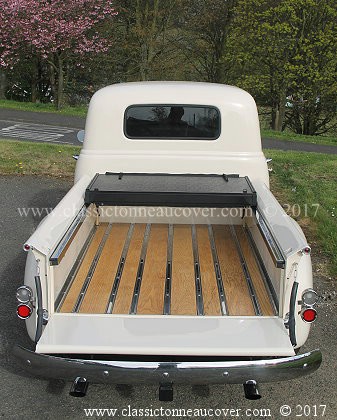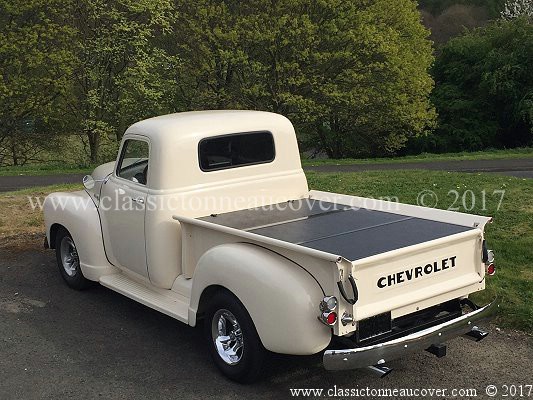 www.1952chevytruck.com
This web site shows all of the restoration process and the modifications to this truck.
In addition, there is a hard high quality tonneau cover on a new web site
at
www.classictonneaucover.com
for the 1947-53 Chevy truck.


Contacting us.
Unlike many other companies we are happy to answer questions on the phone.
Tel. (UK) 01207 544664 and 01207 544224
International Tel. + 44 1207 544664.
Before sending questions via e-mail please check-out our
Frequently Asked Questions
as this could save time.
If you have any questions & comments regarding this site's content, or you need advice please ....
click here
to go to our
contact forms
.

Copyright © 2019 Vision International. All rights reserved.