Long pole "above the gutter" wall
mounts for fixed dishes up to 1.0m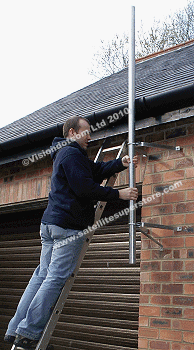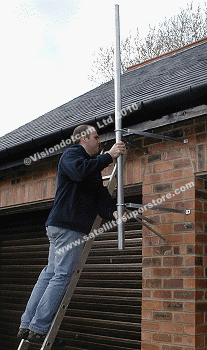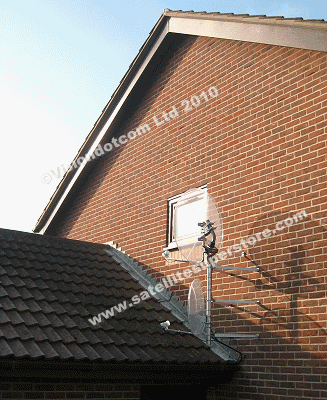 5 bolt fixing. Various stand off distances and 2 pole lengths - 1m and 2m. All pole diameters are 50mm
The poles are galvanised. the stand off distance is from the wall is to the inside of the pole.
If the dish is larger than 1.0m use a heavy duty "above the gutter" wall mount from our
wall mounts & ground stands
page or a ground stand if applicable.
The following mounts are available from the
Wall mounts & ground stands
page,
Long pole wall mount 1. Stand off - 300mm. 2m galvanised pole.
Order code LPMOUN1
Long pole wall mount 2. Stand off - 500mm. 2m galvanised pole.
Order code LPMOUN2
Long pole wall mount 3. Stand off - 300mm. 1m galvanised pole.
Order code LPMOUN3
Long pole wall mount 4. Stand off - 500mm. 1m galvanised pole.
Order code LPMOUN4

4 LNB cable.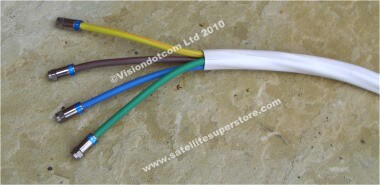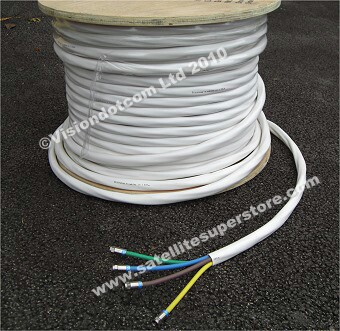 This cable could be used with quad LNBs, quatro LNBs, two twin LNBs, or 4 single LNBs.
Each cable is 7mm as so it fits our screw on F connectors and our compression fit F connectors.
Order this cable on the
satellite cable
page.

Fixed dish installation information.
If you are fitting the system yourself, you may need some installation equipment,
Cable, wall bolts, clips, connectors and satellite meters can be found on the
Install Page.

Advice - Using a Sky box as well.

If you look at the twin LNB option above at you will see this issue is dealt with.
i.e. Using a twin LNB in the 28E position, you could have the twin and 2 single
LNBs on 28E, 19E and 13E
Using the FTA / CI receiver on one output of the twin and the 2 single LNBs
all three satellites will then work on this receiver.
The second output of the twin could go to the Sky Digibox
Alternatively, without the twin option, the FTA / CI receiver could connect to 2 satellites,
19E and 13E. Then the Digibox to the 28E LNB
Either way, two cables must be brought into the house for the 2 receivers.

Advice - using the Triax Multibracket in France.

(This is NOT an issue in the UK where the bracket works fine on an 80cm dish. - although in the
north a 90 is recommended)
To get Sky / 28E in France you need a 60cm in the North, 80cm by the time you get to Paris
and a 90cm in the south and south west.
(We quote dish sizes to receive the lowest power channels like the BBC although smaller dishes
will work on a % of the channels but not the lowest power.)
Astra and Hotbird are powerful in France and probably only need a 60 for either.
So using a 90cm dish and multibracket in the south is then a problem as you are sharing
the signal between 3 satellites and there is therefore a drop in signal of maybe 3 to 6 dBs
on LNBs not in the centre of the boom arm. (centred on 19E, the 28E LNB is off-centre)
It therefore follows that a bigger dish is needed to make up for losses in a lower signal areas like France etc.
A solution, in theory, might be the Triax 1.1m dish which is also compatible with the multibracket
but we have had no sales of that type and hence no feedback from customers to confirm it works well in that area.
Also note that on the mutibracket page there is a twin option so that a twin LNB can be put in the 28E position
on the bracket so that a Sky Digital can be used as well as a CI receiver.

Advice - using the Triax Multibracket in Spain.

CUSTOMER FEEDBACK.

Good morning,
Having spent a lot of time visiting your site, I would like to pass on some information to you regarding an
installation that I have finally sorted out.
I live on the Costa Brava in the town of Roses; and for some time wanted to view Astra 1 and 2
using the same dish- despite attempting a motorised system and two separate dishes, I was never
able to see both the Spanish Digital + system on Astra 1 and the FTA channels on Astra 2 well enough.
So I purchased a Triax 110cm dish, a multi lnb bracket, and a VisionNet FCIS 7000 reciever. I now have
over 300 FTA channels on Astra 2, all the Spanish system, and the added bonus of all the new Spanish
freeview system. It has a taken a little bit of patience, but as now I have 95% signal quality on
the FTA channels on Astra 2 ( in fact, better than Astra 1 at about 75-80%), I am more than happy.
I know that you have requested any feedback regarding Triax and their multi-lnb bracket; well, please
advise all those who are thinking about purchasing or installing, that here in northeast Spain, the
results are spectacular.
Thank you for your time, keep up the good work.
Regards,
Patrick

Feedback from Ireland

Feedback. I got a 90cm Triax Dish, Diseqc switch and multi-arm bracket from you last year
and it is working a dream in Dublin - I use 3 of the LNBs for Hotbird, Astra 1 and Astra
2/Eurobird.
By the way, when setting up the multi-arm I found that the maximum 'tilt' of the arm was
quite limited and was insufficient to get a good signal from the 3 satellites.
Must be the vertical angles in Dublin! I had to do a bit of cutting/scraping to
increase the tilt but it works great now (~80-90 signal from Astra 1 & Hotbird
and over 90% with Astra 2). Regards, Dominic

Advice - using the Triax Multibracket with other dishes.

Over the last 10 years we have tried a number of universal 20 degree kits and none of them worked
properly - producing very low signal on all satellites - often flexible plastic and poorly made.
In 2005 Triax introduced the multibracket kit for the range of TD dishes.
We were skeptical but we tested it and it worked well.
Please note the following,
The Triax Mulibracket.
It is a precision engineered aluminum extrusion design.
It fits the Triax Boom arm and not other arms.
The design program was to match the arm to the dish so that they work properly together.
1000s sold and customers know they work
It may work properly on other dishes and will not fit anyway.
That is not to say that if you put your mind to a modification to make
if fit other dishes that this could not be done. Anything can be achieved
with a little work and skill but we certainly cannot comment on whether
a DIY mod will provide good results.
BUT
After 6 months of work and testing we have adapted it to our clear transparent 85cm
dish and it works very well. This modified unit is now available and good feedback
has come in from users.




See our other web site at-
www.primesat.eu
This site includes many products that are exclusive to the Satellite Superstore.
The site contains -
• Products that we manufacture (e.g. We have manufactured heavy duty wall mounts and ground stands since 1991).
• Selected products which have our own Primesat brand name and have been prepared to our specifications.
• Selected products where we have been appointed the authorised UK or European distributor by the manufacturer.
www.primesat.eu
is an information site. Here you will find full specifications and many detailed pictures.
To buy any of these products, simply order them on this web site.

Link to our own satellite museum site
Satellite Museum. A Museum of vintage satellite receivers.
See
www.satellitemuseum.com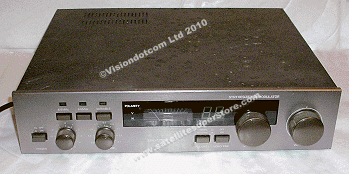 For old Satellite receivers with knobs on and the history of satellite TV.
Also see
www.rewindmuseum.com
. A Museum of vintage consumer electronics.
Vintage reel to reel video recorders. Vintage VHS and Betamax VCRs. Vintage video cameras. Vintage
Laser Disc. Vintage Computers. Old telephones. Old brick mobile phones. Vintage Hi Fi, Old reel
to reel audio and early audio cassette decks. Including, the history time line of vintage
consumer electronics ... and much more .....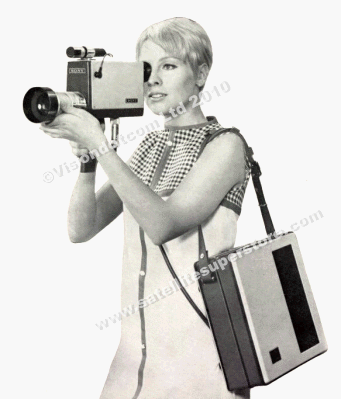 It is well worth a visit.
Only The
Satellite Superstore
brings you
great products, advice and it's own museum.


You may be interested in two other web sites.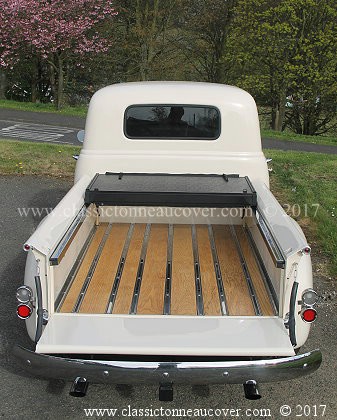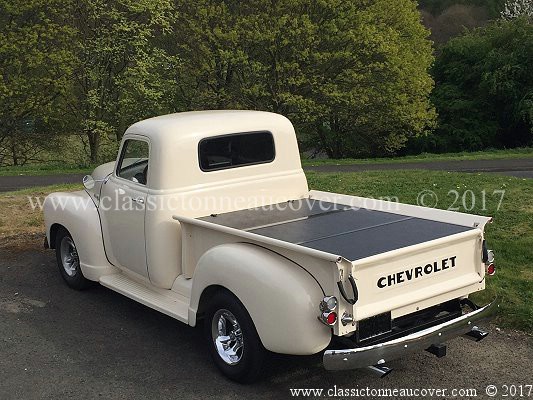 www.1952chevytruck.com
This web site shows all of the restoration process and the modifications to this truck.
In addition, there is a hard high quality tonneau cover on a new web site
at
www.classictonneaucover.com
for the 1947-53 Chevy truck.


Contacting us.
Unlike many other companies we are happy to answer questions on the phone.
Tel. (UK) 01207 544664 and 01207 544224
International Tel. + 44 1207 544664.
If you are ringing us about a product you have already purchased, you should ring the support line on your invoice.
Before sending questions via e-mail please check-out our
Frequently asked questions
as this could save time.
If you have any questions & comments regarding this site's content, or you need advice please ....
click here
to go to our
contact forms
.

Copyright © 2017 Vision International. All rights reserved.