If you use a meter frequently, a normal screw on F Connector lead is slow and creates wear on any meter's socket.
This lead pushes onto the meter and pushes onto the LNB for quick efficient use. Ideal for installers. It is 2 meters long
Absolutely ideal for installers (or caravan owners) where the meter is used frequently. It is constructed with
Primesat SF-600 Mk2 low cost professional
meter. Built in rechargeable battery.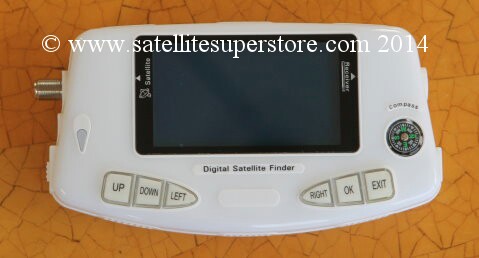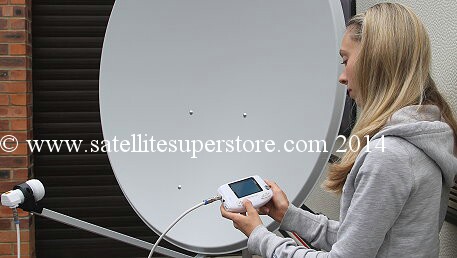 Identifies satellites. Light - only 306g. Easy to use.
DVB-S2
This meter has a built in battery and can be connected direct to an LNB (using the input connector). To find the satellite, no
other connections are needed, the meter will find the selected satellite. Even though connection to a satellite receiver is not
required, it does have an IF loop through (and output connector) which can connect to a receiver in case the user wants to
monitor the picture on a TV set at the same time. Mains / 12 volt charger and USB data connection lead included. This meter
is ideal for DIY, mobile caravan use or installers. Since it identifies the satellite, set up time is usually under 2 minutes. Also
note this is a DVB-S2 meter which means it will lock onto satellites which only have HD transmissions on them. For example, this
meter will find 27.5 West. Most meters will not. A very useful satellite for customers wanting English channels in fringe areas like
Spain and Southern Italy. 27.5W is also important for mobile caravan customers with the appropriate receiver in those fringe areas.
Please don't mix this meter up with others you may find on the Internet which look similar. These meters are specially built and
prepared for the Satellite Superstore and they have our own prescribed dataset installed at the factory. We wanted the meters
to be simple to use but also have some useful options. For that reason 3 satellites are pre-programmed. Astra 2 at 28E for the
English channels from freesat or Sky, Astra 1 at 19E and Hotbird at 13E. If you are in a caravan and touring a long way from the
UK, Astra 2 may be difficult to find and may need a dish too large to carry. With this meter you can switch to Astra 1 or Hotbird
and still find some useful channels including "BBC World". To put more than 3 satellites into the meter would have made it more
complicated and not so quick and easy to use. 3 satellites seemed like the best balance for the budget / quality meter market.
Note - other satellites can be added manually using the buttons on the meter if required. (Similar looking meters found on the
internet are usually full of Chinese satellites and may not have been pre-prepared. Or if they have, Astra 2 may be mixed up
with all of the many Chinese satellites and that can be confusing. The unwanted satellites cannot be deleted.) There are none
of those problems with this Primesat meter. Also note, similar looking meters usually do not have a built in battery. Very cheap
meters which do not ID the satellites can take much longer to use and whilst they may be OK for a one off installation, they are
not recommended for regular use. An ideal meter for finding the satellite quickly at an excellent and very competitive price.
Special offer - Free delivery also to UK offshore Islands and Southern Ireland.
Shipping options. Discounted shipping on all web orders.
(
VAT info
.) (
Stock levels
.)
Small orders - UK delivery is included in the price (includes offshore islands) - so choose,
"
UK - small items - delivery included.
" (Includes UK offshore islands) - UK shipping option No 3.
All Internationals - EU or outside of the EU - choose the £15 "
up to 1.5 Kg by insured international post.
" shipping option