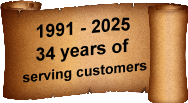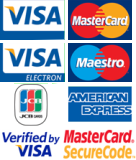 Raven satellite dishes with inclined orbit polar mount motors. Raven 2.4m motorised inclined orbit satellite dishes. Dual axis 2 motor polar mounts. Quality 36V motorised satellite dishes and motor units from the Satellite Superstore. Triax, Raven, Andrews, Primesat, Channel Master motorised dishes. 36-volt linear actuators motors. The Raven 2.4m motorised dish. the Primesat 2.3m motorised dish, the Channel Master 2.4m motorised dish, the Raven 2.4m motorised dish, the Channel Master 2.4m motorised dish. The Primesat 1.4m motorised inclined orbit dish. Professional gamblers, betting, sport feeds, faster response times, faster satellite signals, sport betting, 422 feeds, 4:2:2 feeds
We have 2 identical sites on different servers. www.satellitesuperstore.com & www.satellitesuperstore.co.uk If one site is down, please use the other one
As a family based company we offer telephone sales and advice. Tel. 01207 544664

Raven 2.4m inclined orbit motorised dish.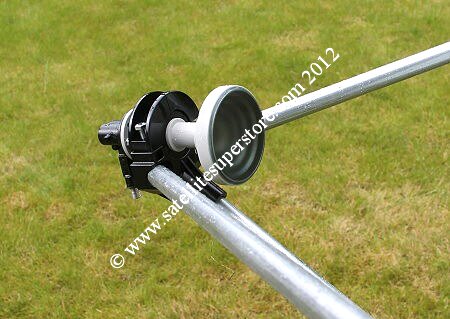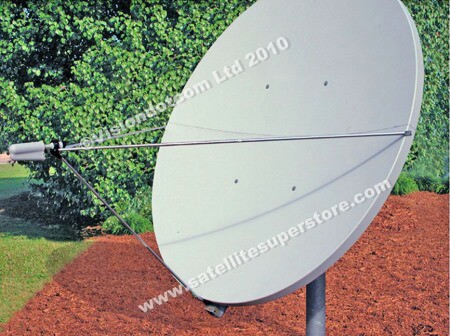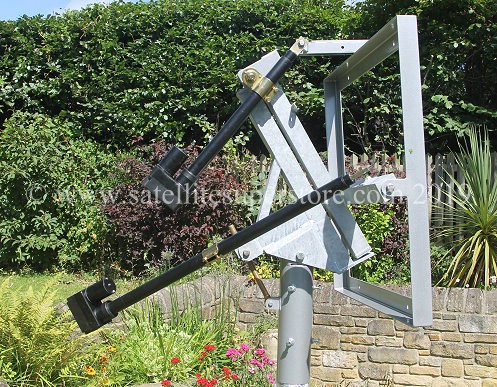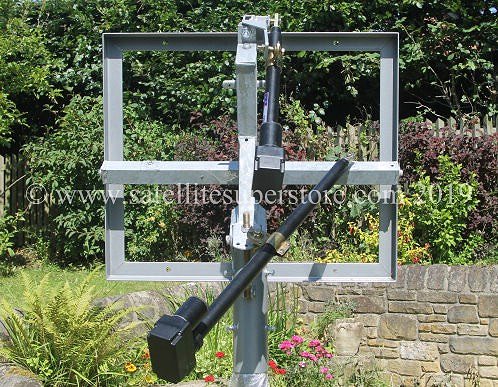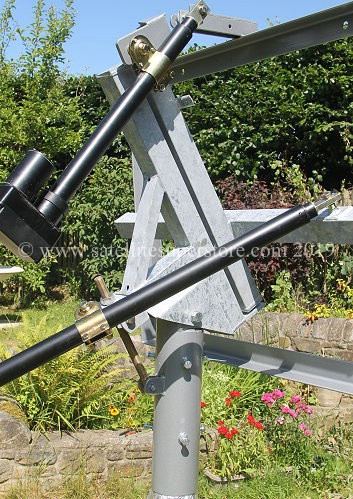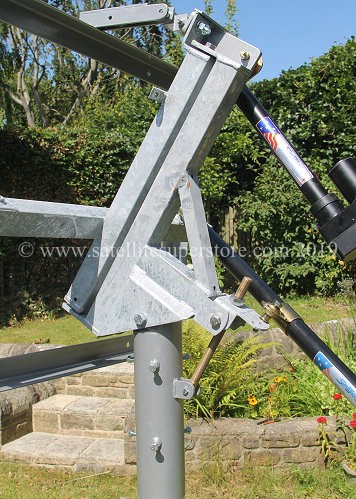 Raven 2.4m dish with inclined orbit polar mount using two actuators.
Heavy duty Raven 2.4m dish with inclined orbit polar mount, Raven matched feedhorn and c120 Inverto single LNB.
The
36 inch
heavy duty actuator can go on either side. The
12 inch
heavy duty actuator is for up and down adjustment. This is
ideal for tracking inclined orbit satellites. Two positioners are needed. These can be a
Primesat V Box
for control east and
west using a modern HD satellite receiver in automatic mode or in manual mode and up and down using the
2nd V Box
positioner. Manual mode would be using the handsets which came with the positioners. All satellite positions can be stored. For
inclined orbit satellites a timing chart is useful (
ring
us for further advice). The
inclined orbit motor kit
is available separately.
About the motor unit - This motor unit is produced by our sister company
www.primesat.eu
for the Satellite Superstore.
It is designed for the 2.4m Raven dish. The "dish back plate frame" is etch primed, primed, top coated and baked in an
oven to provide a durable finish. The rest of the polar mount including the collar is dipped galvanised. All of the nuts
and bolts are made of stainless steel except the main elevation adjuster which are made of brass. The polar mount includes
a frame which is designed to fit on the back of the Raven 2.4m dish using the 4 bolts which come with the Raven dish.
Technical - Gain 47.6 dBi at 11.95Ghz. 3dB beamwidth - 0.7 degrees. Cross polarisation - 30dB, collar fits a 100mm pole.
Weight of polar mount 29Kg. Weight of actuators 12Kg. Total weight 41Kg. This polar mount motor unit is designed to
clamp onto a 100mm diameter pole. An ideal ground stand is the
Primesat GS76125
stand. Note - Raven dishes were
formally "Andrews dishes" and before that "Channel Master". This heavy duty polar mount and actuators can take high wind
loads. Using a Diseqc receiver, an optional V Box is also needed. This converts Diseqc commands to 36-volt positioning and
is fully automatic. it also introduces more power to drive the heavy duty 36 volt motor east and west.
Two
discounted V Box
are avaiable below. A matched Raven feedhorn is highly recommended and
included with this Raven 2.4m dish kit. Using this feedhorn with a C120 flange LNB provides better matching and more good
signal (a higher signal to noise ratio) than a standard 40mm clamp LNB. It is best not to invest in a high quality Raven
dish and use a compromise 40mm mass market LNB where the integrated feedhorn is designed for
ANY
dish but is not
matched? Taking this 2.4m dish as an example, a 40mm LNB may only illuminate 2.3m of dish area or perhaps 2.5m of dish
area (i.e. including noise from round the edges) but with a matched feedhorn, exactly 2.4m of dish area is illuminated.
A high output C120 Inverto LNB included (good for longer cable runs). The one piece reflector is thermoset-molded glass
fiber reinforced polyester for strength and rigidity and surface accuracy. An ultimate dish system for enthusiasts. The
polar mount collar fits an 80mm pole or ground stand. Also see the discounted heavy duty
ground stand
option below.
Spare parts are available for the Raven dish - fixed
AZEL mount
, spare
arms
, and the
feed support boss
. You can
change the single c120 LNB to a twin, a quad, or a quatro C120 LNB with one of the
LNB options
below.
4 core
motor control cable
for these motors is available. If you already have a 4.5" pole, a
pole adapter
is available.
Note - a standard
motorised version
of this dish is also available. A
C Band LNB support boss / bracket.
is also available.
Shipping options.
Shipping to all destinations is by quotation.
email
or
ring
.
Raven 2.4m inclined orbit dish, polar mount, heavy duty 36 inch
actuator, 12 inch actuator, feed, C120 single Inverto LNB.
Order code RAV24IO
£4249.95

2 positioners option. - add 2 x V Boxes to my dish order.
Discounted
V Box
. Normal price £99.95 each - we are only adding £79.95 extra for each V Box. Save £40.00
Order code OPTVPRI
Add only £159.90
LNB options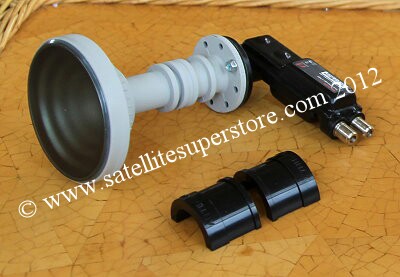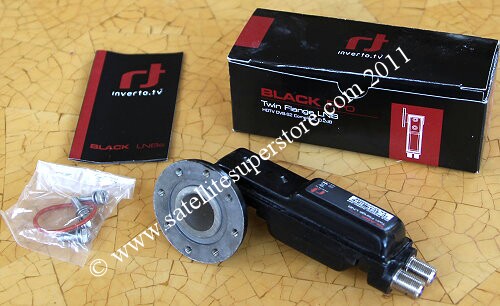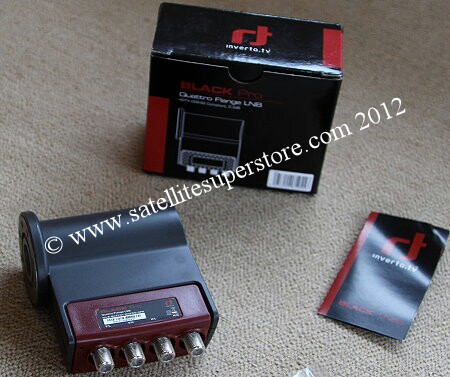 When ordering the dish above which includes a matched feedhorn you may wish to change
the LNB from a single C120 LNB in your order option to a twin, a quad or a quatro LNB.
We can take out the single C120 LNB, change it and charge you the difference in price.
Buying these LNBs separately without also buying the dish kit should only be done from the
LNB
page.
Dish Option - Change the single C120 LNB for a twin Inverto Black Pro C120 LNB.
Order code OPTETWI
Add £30.00

Dish Option - Change the single C120 LNB for a Primesat quad C120 LNB.
Order code OPTPQCN2
Add £200.00

Dish Option - Change the single C120 LNB for a Primesat quatro C120 LNB.
Order code OPTPQCM2
Add £200.00

Option - Primesat ground stand for
the motorised 2.4m Raven dish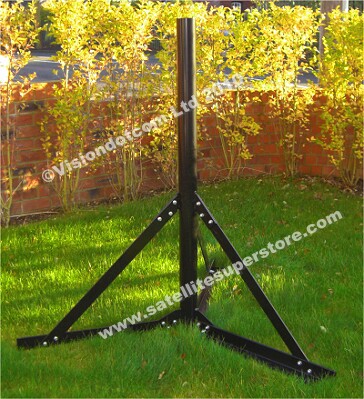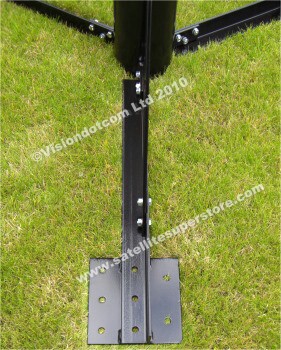 (The Raven dish used to be made by "Andrews" and before that "Channel Master".)
Manufactured by the Satellite Superstore. This is our own stand. It is 1.6m high and uses a 100mm (4.0") pole.
There are 24 holes for fixing down to concrete or paving. 8 in each corner. It is etch-primed and pained black.
The final coat of paint is baked in an oven dried. The stand is bolted together to make it easy to ship. A fully
welded stand of this size could not be transported with a courier and would need a (expensive) haulage company,
so this stand bolts together. Multiple bolts are used for maximum rigidity. The stand is heavy but it needs to be.
This stand is designed for the motorised 2.4m Raven dish
Coach bolts and plugs for fixing the ground are available from the
installation items
page. This is a special order
item. It is manufactured for the customer when an order is placed. Allow up to 5 working days to
manufacture this stand. The weight of this ground stand is 50Kg. (The 2.4m Raven dish weighs 180Kg)
It can be ordered separately on the The
ground stands page
Ground Stand for the 2.4m motorised Raven dish. 4.0-inch diameter pole
Our own "
Primesat Vision
" heavy duty range. Manufactured since 1991.
Order code OPTR24S
Price on application. Tel. 01207 544664 or use the
contact forms
.

Raven Spare Parts.


Raven Spare Parts -
arms / legs for Raven 2.4m dish.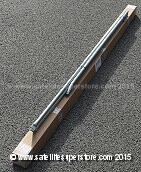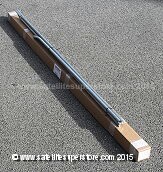 These arms are included when you buy the Raven dish but if you have an old Channel Master (or Andrews)
dish for many years dish and the arms need replacing they are available separately here.
These are the 3 arms which go between the dish reflector and the LNB feed support clamp.
Please note the picture shows the arms for the 1.8m dish but the 2.4m arms are longer but similar.
Click here
to order.
Raven feed support boss.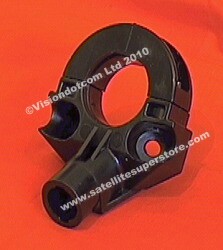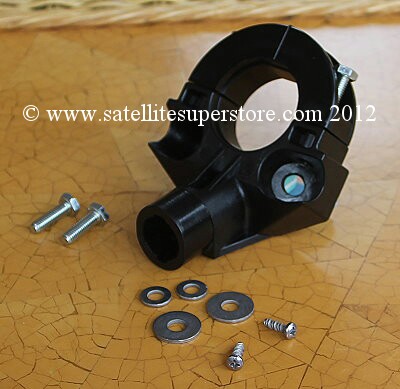 This is the feed support clamp that fits on the ends of 3 arms of the Raven
(formally Andrews and before that Channel Master) 90cm, 1.0m, 1.2m 1.8m and 2.4m offset dishes.
This is a 40mm clamping LNB support boss. Bolts nuts and washers are included.
In stock and ready for immediate shipping.
Raven feedhorn support boss assembly
In stock and ready for immediate shipping
Click here
to order.
C Band Feed Support Boss for Raven Dish.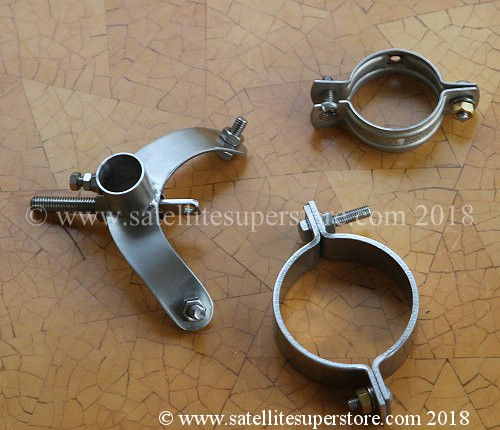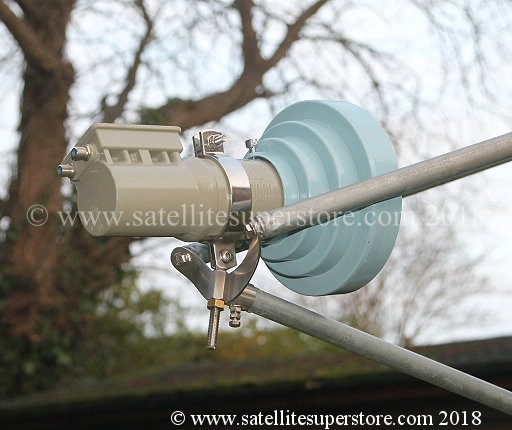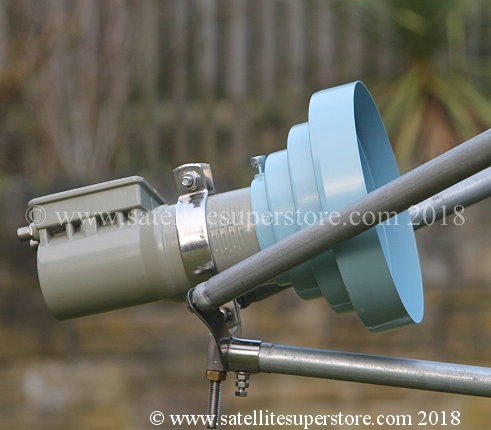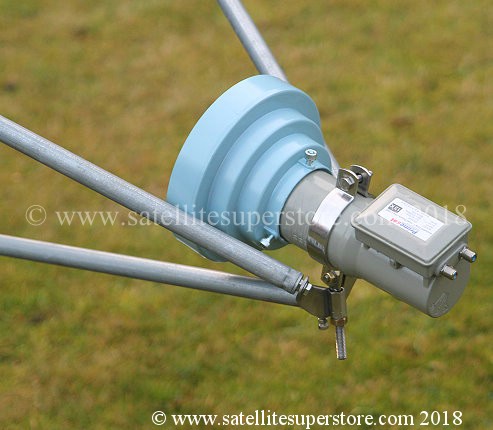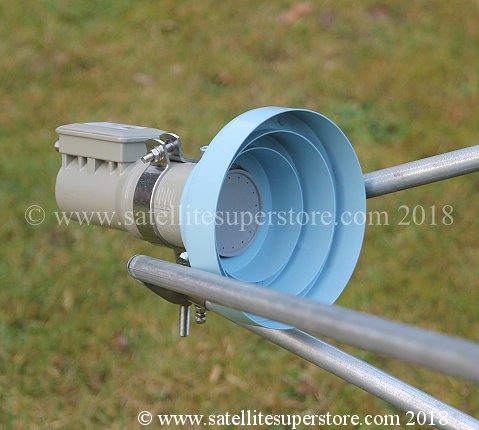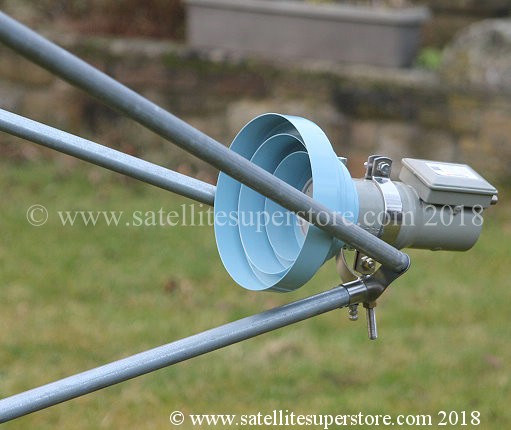 Designed for the
Raven
fibre glass offset dishes,
1.2m,
1.8m
and
2.4m
Note, Raven dishes were formerly "Andrews" and before that "Channel Master".
This is a high quality stainless steel bracket / feed support boss for C Band LNBs with an offset feedhorn.
At last a very high quality product for fitting C band LNBs onto the Raven offset dish.
Click here to order.


See our other web site at-
www.primesat.eu
This site includes many products that are exclusive to the Satellite Superstore.
The site contains -
• Products that we manufacture (e.g. We have manufactured heavy duty wall mounts and ground stands since 1991).
• Selected products which have our own Primesat brand name and have been prepared to our specifications.
• Selected products where we have been appointed the authorised UK or European distributor by the manufacturer.
www.primesat.eu
is an information site. Here you will find full specifications and many detailed pictures.
To buy any of these products, simply order them on this web site.

Link to our own satellite museum site
Satellite Museum. A museum of vintage satellite receivers.
See
www.satellitemuseum.com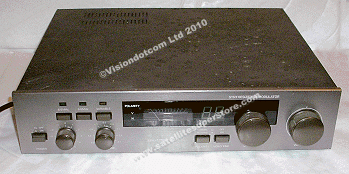 For old satellite receivers with knobs on and read about "
A History Of Satellite TV
".
Also see
www.rewindmuseum.com
. A Museum of vintage consumer electronics.
Vintage reel to reel video recorders. Vintage VHS and Betamax VCRs. Vintage video cameras. Vintage
Laser Disc. Vintage Computers. Old telephones. Old brick mobile phones. Vintage Hi Fi, Old reel
to reel audio and early audio cassette decks. Including, the history time line of vintage
consumer electronics ... and much more .....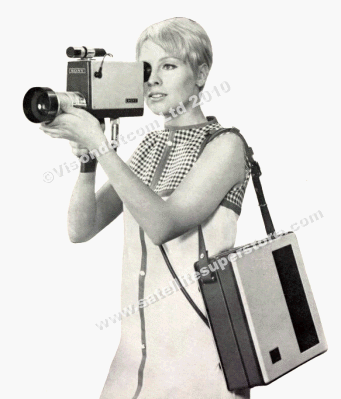 It is well worth a visit.
Only The
Satellite Superstore
brings you
great products, advice and it's own museum.


You may be interested in two other web sites.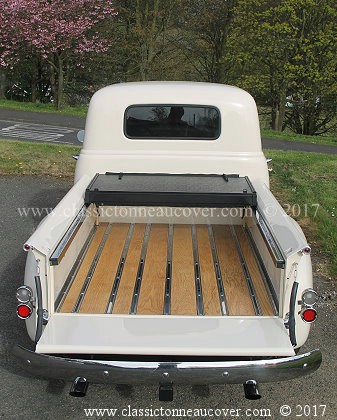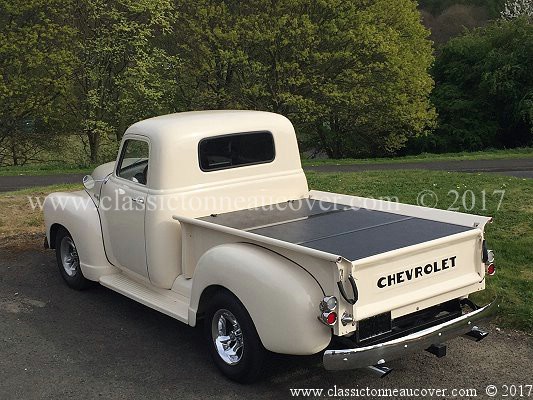 www.1952chevytruck.com
This web site shows all of the restoration process and the modifications to this truck.
In addition, there is a hard high quality tonneau cover on a new web site
at
www.classictonneaucover.com
for the 1947-53 Chevy truck.


Contacting us.
Unlike many other companies we are happy to answer questions on the phone.
Tel. (UK) 01207 544664 and 01207 544224
International Tel. + 44 1207 544664.
Before sending questions via e-mail please check-out our
Frequently Asked Questions
as this could save time.
If you have any questions & comments regarding this site's content, or you need advice please ....
click here
to go to our
contact forms
.

Copyright © 2019 Vision International. All rights reserved.