We have 2 identical sites on different servers. www.satellitesuperstore.com & www.satellitesuperstore.co.uk If one site is down, please use the other one
Raven 1.2m inclined orbit motorised dish.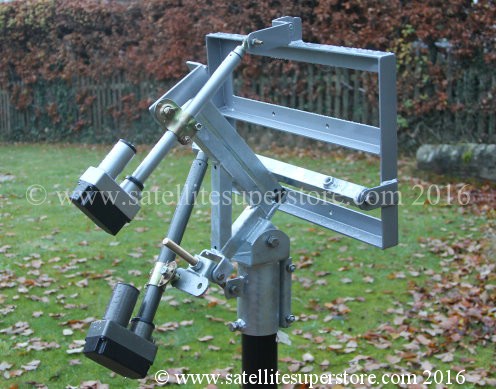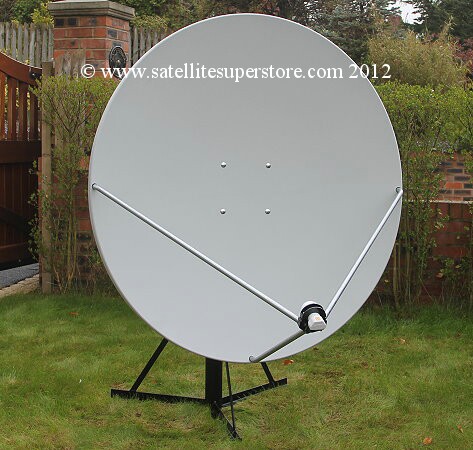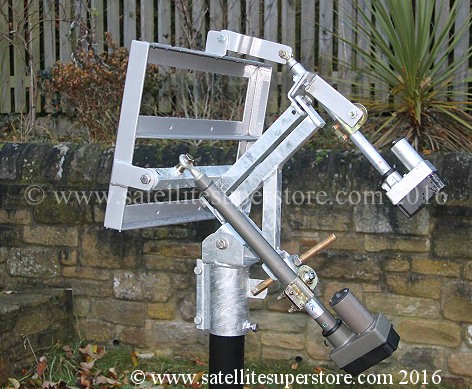 Raven 1.2m dish with inclined orbit polar mount and 2 actuators
Note - Raven Skyware Global dishes were formally "Andrews dishes" and before that "Channel Master".
The one piece reflector is thermoset-moulded glass fibre reinforced polyester for strength and rigidity and surface accuracy.
Gain 42.0 dBi at 11.95Ghz. 3dB beamwidth - 1.6 degrees. Cross polarisation - 30dB
An ultimate dish system for enthusiasts. For moving east and west, a genuine Superjack 18 inch
actuator
is included.
The
12 inch
heavy duty HR actuator is for up and down adjustment. This is ideal for tracking inclined orbit satellites.
Two positioners are needed. These can be a Primesat V Box for control of east and west positioning using a modern
satellite receiver in automatic mode and a 2nd V Box in manual mode for up and down elevation acting just as a positioner.
Manual mode would be using the handsets which came with all V Boxes. All satellite positions can be stored. For inclined
orbit satellites a timing chart is useful (
ring
us for further advice). The
inclined orbit motor
kit is available separately.
About the motor unit - This motor unit is produced by our sister company
www.primesat.eu
for the Satellite Superstore.
It is designed for the 1.2m Raven dish. The "dish back plate frame" is etch primed, primed, powder coated and baked in
an oven to provide a durable finish. The rest of the polar mount including the collar is dipped galvanised. All of the nuts
and bolts are made of stainless steel except the main elevation adjuster which are made of brass. The polar mount includes
a frame which is designed to fit on the back of the Raven 1.2m dish using the 4 bolts which come with the Raven dish.
This dish / polar mount motor unit is designed to clamp onto a 80mm diameter pole. When ordering a stand, a
shim
is included. An ideal ground stand is the Primesat GS761FW3
ground stand
See option below. An ideal wall mount
is the Primesat WMS45076
wall mount
. See option below. 4 core motor
control cable
for this motor is available.
V Box options.
Using a Diseqc satellite receiver, a
V Box
is also needed, or a V Box can just be used as a
separate positioner as it comes with it's own remote control. The V Box in automatic mode converts Diseqc
commands to 36 volt positioning and only the satellite receivers remote is used. It also introduces more power to
drive heavier duty 36 volt motors. 2 V Boxes are needed. See options below.
LNB options
below. There are many LNB options. LNB not included unless an option is chosen. There are 40mm
clamp universal LNB options. If a wideband LNB is to be required, choose the hybrid 40mm LNB as it has universal
outputs as well. If wideband LNB outputs are required they must be 40mm and there are no c120 flange wideband
LNBs available. This is also the case with the fibre headend.
Feedhorn c120 LNB options
. When using universal LNBs, the matched feedhorn and c120 flange LNB is best. A
matched feedhorn will maximise signal capture in low signal locations and is available with several c120 flange LNB options
Wall mount
and
ground stand
options below. A heavy duty Primesat wall mount or ground stand is also available.
Heavy duty
above the gutter wall mounts
can be ordered separately with 2m long, 76mm diameter
(3-inch) poles and
100mm
,
300mm
,
450mm
, and
550mm
stand-off distances to clear gutters.
Non-pentrating ground stand
. A heavy duty Primesat non-penetrating
ground stand
is available separately.
C Band
LNBs can be selected separately by ordering a C band stainless steel feed
support clamp
and a
C Band LNB
A
standard
polar mount motorised version and a
fixed version
of this 1.2m dish are also available.
Shipping information and options.
(
VAT info
.) (
Stock levels
.)
Choose either "
free mainland UK delivery
" - UK shipping option No 1 or
priority options 4-7
.
For "
UK offshore islands including Northern Ireland by courier
" choose the &pound89.00 shipping option.
International
- To all locations choose the "
International shipping quote by e-mail
" option.