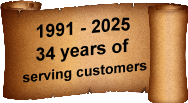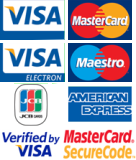 Satellite dishes with inclined orbit polar mount motors. 2.3m / 3.1m motorised inclined orbit satellite dishes. Dual axis 2 motor polar mounts. Quality 36V motorised satellite dishes and motor units from the Satellite Superstore. Triax, Raven, Andrews, Primesat, Channel Master motorised dishes. 36-volt linear actuators motors. The Raven 1.8m motorised dish. the Primesat 1.8m motorised dish, the Channel Master 1.8m motorised dish, the Raven 2.4m motorised dish, the Channel Master 1.8m motorised dish. The Primesat 1.4m motorised inclined orbit dish. Professional gamblers, betting, sport feeds, faster response times, faster satellite signals, sport betting, 422 feeds, 4:2:2 feeds
We have 2 identical sites on different servers. www.satellitesuperstore.com & www.satellitesuperstore.co.uk If one site is down, please use the other one
Primesat 2.3m / 3.1m motorised dish,
inclined orbit motor, matched feedhorn.
Ku band or / and C Band LNB options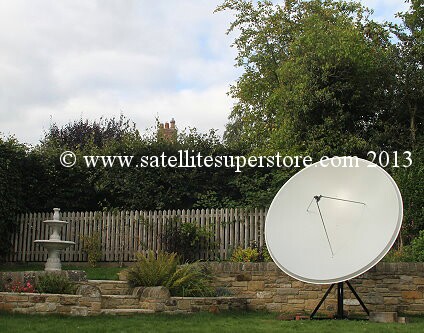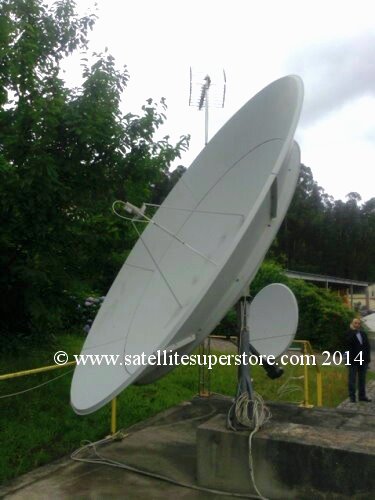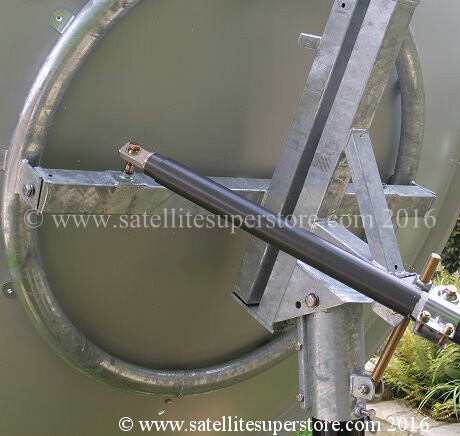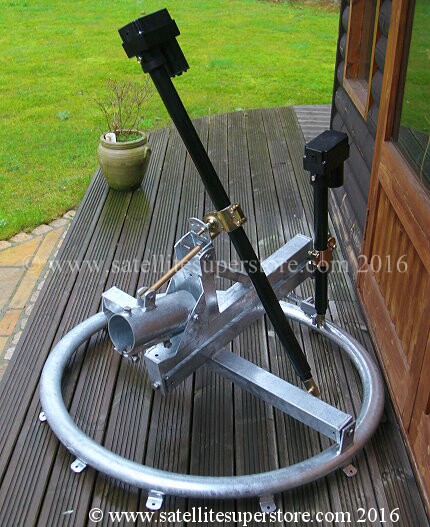 Primesat inclined orbit motorised 2.3m dish with 3.1m option. 2 motors.
The
36 inch
heavy duty actuator can go on either side. The
18 inch
heavy duty actuator is for up and down adjustment. This is
ideal for tracking inclined orbit satellites. Two positioners are needed. These can be a
Primesat PR1000 V Box
for control east and
west using a modern HD satellite receiver in automatic mode or in manual mode and up and down using the
Primesat EZ2000
positioner. Manual mode would be using the handsets which came with the positioners. All satellite positions can be stored. Discounted
positioners
are available below. For inclined orbit satellites a timing chart is useful but
ring
us for further advice on this subject.
There are many options shown below. There is a ground stand for the 2.3m dish. There is an option to increase the dish size
to 3.1m using
dish extensions
. This is a special order item and whilst 2.3m dishes are in stock the extensions can take 2 to
3 weeks to manufacture for your order. The discounted
ground stand
is a special order item, made to order. The manufacturing
time is 3 to 4 days. When placing an order to be shipped, a large crate is manufactured to transport the dish safely. Building
the crate takes 3 to 5 days from the day of ordering. This 2.3m dish is made of aluminium and is one piece. (As a general rule,
aluminium is preferable to steel and 1-piece tends to be more efficient that "petalised" or segments.) This attractive dish
comes complete with a inclined orbit heavy duty polar mount with 2 actuators, a Primesat matched prime focus feedhorn,
designed for this dish and an Inverto c120 flange LNB with twin quad and quatro options (see
below
). There is also a C Band
LNB option, a Ku & C band option and a dual polatity feed C Band option (see
below
).
More information
.
More pictures
2.3m Specifications-
Gain at 10.75GHz 46.4dB, Gain at 11.75GHz 47.4dB, Gain at 12.75GHz 48.0dB. Cross polarisation
greater than 30dB, Beam width 0.7, F/D 0.41. Electrical useable diameter 2290cm Actual diameter 2470cm. Weight of reflector
33.8Kg. Weight of fixed AZEL mount 39.2Kg Total 73Kg. (This is considerably lighter than fibre glass and so easier to handle.)
This dish fits on a 100mm diameter pole. Most of the polar mount is "dipped galvanised" which is the best possible type of
treatment for withstanding corrosion in high salt areas. Everything about this dish is high quality. All of the nuts and bolts
are made of stainless steel except the main elevation adjuster which is made of brass. Heavy duty genuine SuperJack actuators
are included. This is a very good price for a high quality, high gain one-piece motorised aluminium dish. We will ship to UK,
EU or the rest of the world destinations. A
standard
(not inclined orbit)
polar mount
motorised version of the dish is
also available and a fixed
Primesat 2.3m
version of this dish is available. Dish extensions can be ordered with the dish
or can be added later. 4 core
motor control cable
for these motors is available. A large crate is built to transport this dish.
The
3.1m specifications
are below.
Shipping options.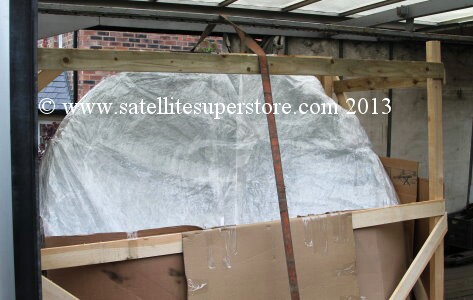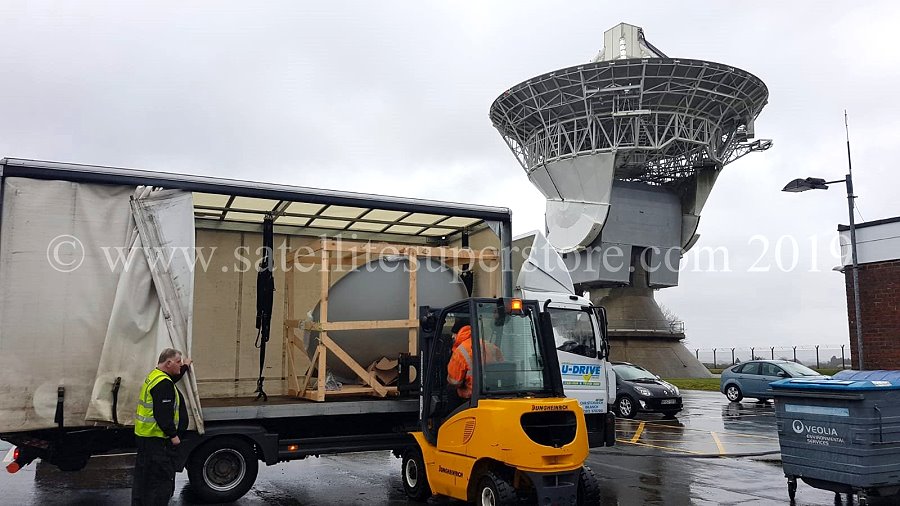 See the dish above being delivered in it's crate to one of our clients.
Free UK mainland UK delivery to most post codes. (There may be additional charges to Scottish highlands)
so choose "
Free UK mainland delivery
" - UK shipping option No 1.
Or for UK offshore islands (and Eire) by courier - oversized delivery - quote by e-mail (or
ring
us).
All internationals - Within the EU or outside of the EU - choose the "International quote by e-mail" shipping option (or
ring
us)
Primesat 2.3m motorised dish, 36 inch actuator, 36 inch actuator, inclined orbit polar
mount, Primesat matched feedhorn Inverto c120 flange black pro single LNB.
Price includes VAT, the large wooden crate and mainland UK shipping to most postcodes. In stock but allow a few days to build a crate.
Order code PRIM23MI
£2049.95

2 positioners option. - add a V Box and a EZ2000 to my dish order.
Discounted
V Box
. Normal price £44.95 - we are only adding £34.95 extra for the V Box. Save £10.00
Discounted
EZ2000
. Normal price £49.95 - we are only adding £39.95 extra for the V Box. Save £10.00
Order code OPTVPRI
Add only £89.90
Feedhorn and LNB options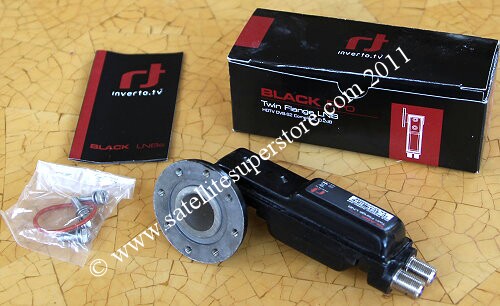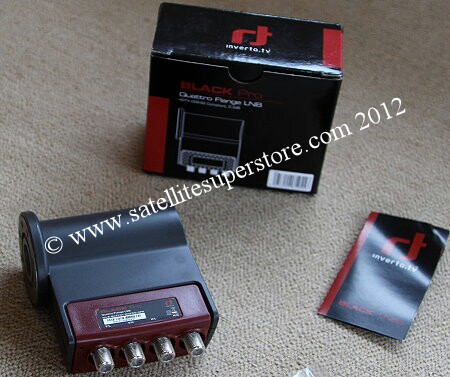 When ordering the dish above which includes a matched feedhorn you may wish to change the LNB from the single C120
LNB in your order to a twin, a quad or a quatro LNB or one of the C Band options below. We can take out the single C120
LNB, change it and charge you the difference in price. Buying these LNBs separately without buying the
dish kit should only be done from the
LNB
page.
Dish Option - Change the single C120 LNB for a twin Inverto Black Pro C120 LNB.
Order code OPTETWI
Add £30.00

Dish Option - Change the single C120 LNB for a Primesat quad C120 LNB.
Order code OPTPQCN
Add £180.00

Dish Option - Change the single C120 LNB for a Primesat quatro C120 LNB.
Order code OPTPQCM
Add £180.00

Options - Primesat C Band (C and Ku band) 60mm boss feedhorn / LNBF kits.
Change the Primesat feedhorn and c120 LNB for a C Band, C and Ku band, or dual polarity feedhorn and LNB kit. Note. The feed
support boss on the dish is changed from 23mm - 40mm to 23mm - 60mm and so fitting a 60mm C band feedhorn is not a problem.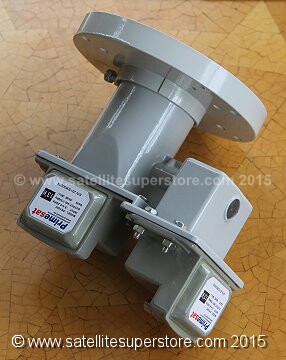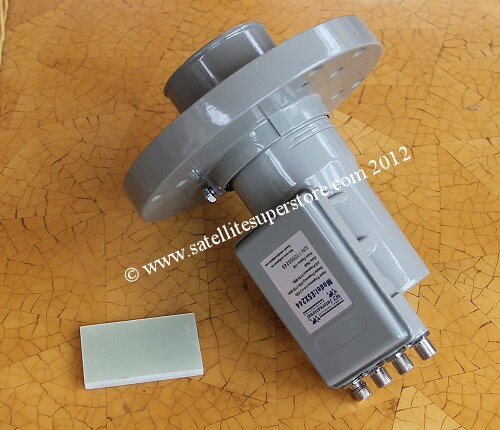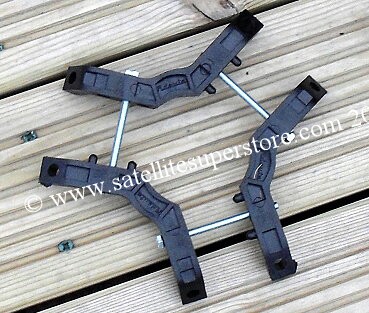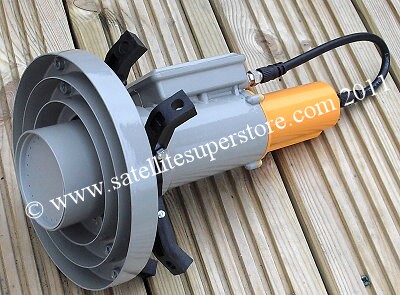 Dish option - Change to a Primesat C Band and Ku band LNB option.
Order code OPTCKUPG
Add only £90.00

Dish option - Change to a Primesat dual Polarity C Band feedhorn with
two C Band CPR229 flange block type LNBs.
Order code OPDP2LNB
Add only £165.00

Dish option - Change to a Primesat quad C Band voltage switching 13K LNBF.
Order code OPT4CLNB
Add only £60.00

Option - Primesat ground stand for the 2.3m Primsat dish.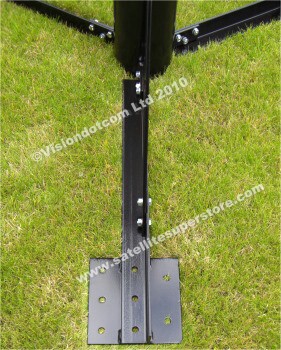 Manufactured by the Satellite Superstore. This is our own stand. It is 1.4m high and uses a 100mm (4.0") pole. There are 24 holes for
fixing down to concrete or paving. 8 in each corner. It is etch-primed and pained black. The final coat of paint is bake dried in an oven.
The stand is bolted together to make it easy to ship. A fully welded stand of this size could not be transported using a normal courier
and would need an expensive haulage company, so this stand bolts together. Multiple bolts are used for maximum rigidity. The stand is
heavy but it needs to be. This stand is designed for the 2.3m Primesat dish but could be used for other applications. Coach bolts
and plugs for fixing to the ground are available from the
satellite installation items
page. The weight of this ground stand is 48Kg
Optional extensions to the base of this stand are available. Once the base area is increased, this stand can be used with the 3.1m dish
Primesat ground stand for the 2.3m Primsat dish. 100mm (4-inch) diameter pole. 1.4m high.
Our own "Primesat Vision" heavy duty range. Manufactured since 1991.
Discounted ground stand option when you buy a 2.3m Primesat dish. To buy this stand separately go to the
Ground Stands
page.
Order code OPT23PR
Add only £599.95
Option - 3 ballast tray extensions to the base for the 2.3m stand for use with the 3.1m dish.
These 3 extensions bolt to the ends of the horizontal angle. Paving stones can be added. This increases the base area and weight.
These ballast tray extensions could also be used with the 2.3m dish if a non-penetrating stand was required , however when used
with the 3.1m dish it is recommended the stand is bolted down as well as using ballast trays and weights. To understand what
ballast trays are, check out the
picture of the 4 ballast trays
which are used in the ground stand for the 3.7m dish.
Order code OPTKING
Only £289.95
Option - Primesat 2.3m to 3.1m dish extensions.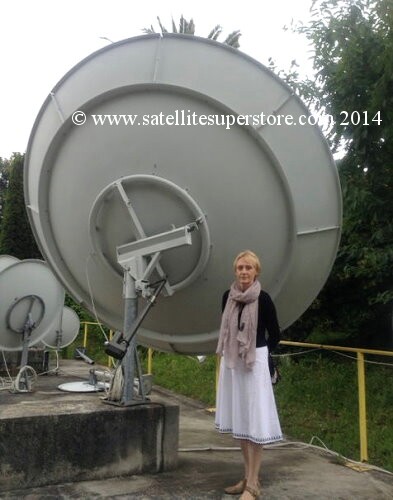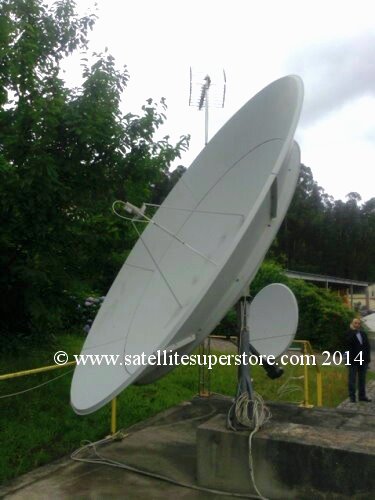 Please note the pictures above show the 3.1m dish with a standard polar mount not the inclined orbit mount.
The pictures above show the dish extensions fitted to the 2.3m dish. The price below is only for the extensions.
The 2.3m dish and mount is not included in the price below. It is only for the extensions.
Specifications of 2.3m dish with extensions fitted - i.e. 3.1m dish specifications -
Gain at 10.75GHz 48.8dB, Gain at 11.75GHz 49.6dB, Gain at 12.75GHz 50.0dB. Beam width 0.6 degrees. F/D 0.3
Please note these extensions are special order items. Allow 2-3 weeks.
Primesat 2.3m to 3.1m dish extensions.
Order code 2331EXT
Add £649.95



See our other web site at-
www.primesat.eu
This site includes many products that are exclusive to the Satellite Superstore.
The site contains -
• Products that we manufacture (e.g. We have manufactured heavy duty wall mounts and ground stands since 1991).
• Selected products which have our own Primesat brand name and have been prepared to our specifications.
• Selected products where we have been appointed the authorised UK or European distributor by the manufacturer.
www.primesat.eu
is an information site. Here you will find full specifications and many detailed pictures.
To buy any of these products, simply order them on this web site.

Link to our own satellite museum site
Satellite Museum. A museum of vintage satellite receivers.
See
www.satellitemuseum.com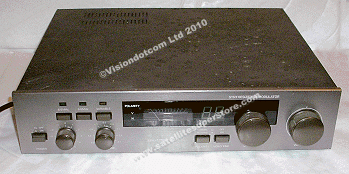 For old satellite receivers with knobs on and read about "
A History Of Satellite TV
".
Also see
www.rewindmuseum.com
. A Museum of vintage consumer electronics.
Vintage reel to reel video recorders. Vintage VHS and Betamax VCRs. Vintage video cameras. Vintage
Laser Disc. Vintage Computers. Old telephones. Old brick mobile phones. Vintage Hi Fi, Old reel
to reel audio and early audio cassette decks. Including, the history time line of vintage
consumer electronics ... and much more .....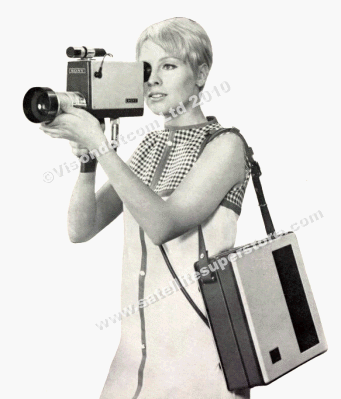 It is well worth a visit.
Only The
Satellite Superstore
brings you
great products, advice and it's own museum.


You may be interested in two other web sites.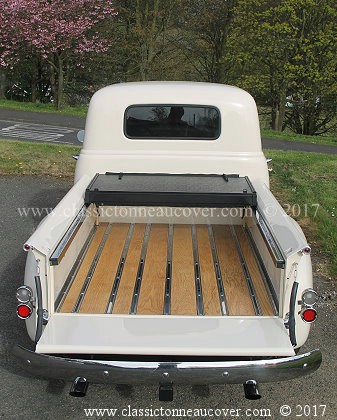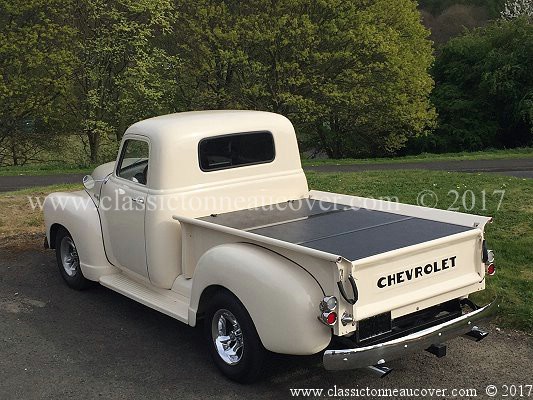 www.1952chevytruck.com
This web site shows all of the restoration process and the modifications to this truck.
In addition, there is a hard high quality tonneau cover on a new web site
at
www.classictonneaucover.com
for the 1947-53 Chevy truck.


Contacting us.
Unlike many other companies we are happy to answer questions on the phone.
Tel. (UK) 01207 544664 and 01207 544224
International Tel. + 44 1207 544664.
Before sending questions via e-mail please check-out our
Frequently Asked Questions
as this could save time.
If you have any questions & comments regarding this site's content, or you need advice please ....
click here
to go to our
contact forms
.

Copyright © 2019 Vision International. All rights reserved.